Los Angeles Lakers forward Lamar Odom and his wife, Khloe Kardashian, are set to start in a reality television program. Posted by Ben Golliver.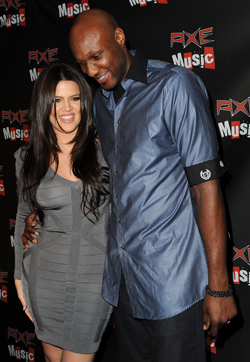 Khloe Kardashian, reality television star and wife of Los Angeles Lakers forward Lamar Odom,
announced on her Celebuzz.com blog Wednesday
that the power couple has landed an E! network reality television program about their marriage.
Ok dolls, it's official! Lamar and I will soon begin filming our very own show on E! called Khloe & Lamar!
WOOOOHOOOOOOOO! How exciting is this?! It's been an option since we got married, but we wanted to enjoy our first year in private. With Keeping Up with the Kardashians, only a very small part of our life together is shown, but with this show, we're putting it ALL out there LOL...
The Associated Press reports that the series will also star Kardashian's brother, Rob.
The eight-episode series, tentatively titled "Khloe & Lamar," will air on E! and begin filming early this year, focusing on the couple and her brother, Rob Kardashian, who is a semi-permanent houseguest, the network said Wednesday.
The show will also follow Odom both in Los Angeles and on the road with the Lakers, who are seeking their third consecutive NBA championship.
Kardashian also wrote that, "Lamar and I could not be more thrilled about this. It's show time baby!!!!" ESPNLA.com, however, quotes Odom calling the show "an opportunity," and he doesn't sound nearly as head over heels about the whole thing as his wife makes him out to be.
"I don't know if 'excited' is the right word, but it should be fun. It should be a lot of fun. I look forward to doing it and seeing the outcome... I got married on TV, bro," Odom said. "So, it's part of what my family and my wife's family do for a living. I expect it to be good."
All of this leaves me a little bit speechless, but one thing is for sure: if the Lakers don't three-peat, this show will take some blame.