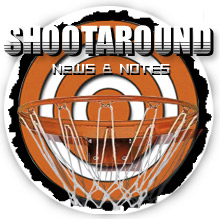 Posted by Royce Young
48 Minutes of Hell on how the San Antonio imploded: "However, this comedy of errors was far from complete. After Manu Ginobili hit a quick three-pointer, the ever-poised Paul Pierce coughed up a quick turnover, as did Nate Robinson on the following play and, after Richard Jefferson calmly sunk two free throws, the Spurs found themselves down by two with 33 seconds left. What had appeared, if not impossible, than highly unlikely, came to pass: All the Spurs needed to do was play solid defense (a tall order as of late), secure the rebound and they'd have a shot to tie or win the game."
Samuel Dalembert opens up to the Sacramento Bee: "They have to let me know which direction they want to go. They know what I do best. I block shots, rebound, get us in the fast break. Am I going to play the next five years in a place that is a contender, or am I going to be here, helping this team get better? It's up to them. But I am not going to lie. This is very frustrating."
Breene Murphy of ClipperBlog on the win over Denver: "But for now, Clippers fans should enjoy the solace of the win over the Nuggets. The two games prior showed that the Clippers are not going to make constant improvements, there will be setbacks against good teams, but they are learning enough where they can continue to bounce back and show very real progress."
Rajon Rondo is back. CelticsHub: "Now that you're really back, we recognize our own team again. Which makes us realize that the only thing that really distinguishes the Celtics on offense is how you make them go. Celtics basketball is half a myth, basically, because it doesn't fully manifest itself without you on the floor. You were supernaturally aware of where the ball was going to be tonight. Like the moment when you held out your hand and the ball spontaneously appeared in it:"