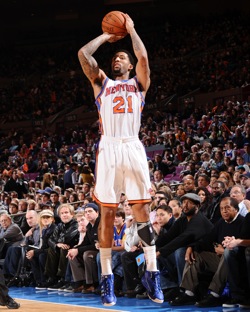 Posted by Royce Young
The
Knicks
passed on signing forward
Wilson Chandler
to a long-term extension prior to the Oct. 31 deadline, meaning he's a restricted free agent this summer.
General manager Donnie Walsh said despite not signing him then, Chandler isn't escaping New York.
"Wilson's a restricted free agent and I'm going to sign him,"
Walsh told the New York Post.
"He's a helluva player."


Chandler has his best game of the season this week, dropping 31 points on the Spurs in the Knicks big 128-115 win. He's been part of the overall revival of the Knicks along with Amar'e Stoudemire and Raymond Felton. Chandler isn't Carmelo Anthiny, but he's a pretty good small forward. On the season, he's averaging 17.9 points and 6.5 rebounds a game. If Carmelo makes his way somewhere else, the Knicks will likely be fine having Chandler.

So what was the deal in October though if Walsh wants to keep Chandler so bad? Why didn't they get an extension done? Walsh said he couldn't come to terms with Chandler then because he wasn't sure of the pay scale or salary cap in the new collective bargaining agreement. Walsh figured he needed to save a little space for Carmelo Anthony before going out and blowing cash on Chandler.


What would Chandler be looking for? The Post reports he might be in the market for a five-year, $60 million contract. Not bad, considering his production.
Joe Johnson inked a five-year $65 million deal with Atlanta in 2006 while putting up numbers fairly comparable to what Chandler is doing now.


But here's another thought: With the way Chandler is playing, shouldn't the
Nuggets
be more interested in him as a replacement for Anthony? Isn't Chandler proving that he might be worthy of handling a good bulk of a team's scoring duties? There's no denying that he's playing really well right now for the Knicks, but of course it helps to be in the offense he's in while also playing alongside Stoudemire. Chandler is getting good looks as a third option on the floor.
The Knicks want to keep him around as part of their future. I'm sure they'd rather have Carmelo, but with the way Chandler is developing, they may just get by without him.