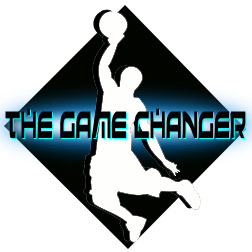 The Boston Celtics escaped from the San Antonio Spurs on Wednesday night, Kevin Martin put up an absurd shooting performance against the Portland Trail Blazers, Blake Griffin dunked and dunked and dunked, and Birdman's tattoos got spotted up close. Posted by Ben Golliver.
Each game is made up of elements which help formulate the outcome. Monday through Friday, we'll bring you the elements from the night before's games in our own specialized version of the game recaps. It's not everything that happened, but it's an insight into what lead to the results you'll see in the box scores. This is
the Game Changer.
THE BIG ONE: CELTICS ESCAPE FROM SPURS
The last few minutes in Boston were beautiful chaos, as the unexpected kept happening in a wild finish between two of the league's premier teams: the Celtics and the San Antonio Spurs. When the dust settled, the Celtics held on for a 105-103 victory, but it wasn't without fireworks.
The Spurs, down nine points late, mounted a furious, and somewhat lucky, comeback thanks to a
Manu Ginobili
three, a
Tony Parker
steal-to-layup finish and two
Richard Jefferson
free throws. Up two with the ball, the Celtics ran the clock, turning the ball over to their late-game savant,
Paul Pierce
.
Pierce missed the game-icer, but the smallest guy on the court, Celtics guard
Nate Robinson
, not only came out with the rebound but intelligently shuffled it to
Ray Allen
, one of the league's premier foul shooters. With less than 10 seconds left on the clock, the Spurs were forced to foul Allen, a career 89.4% free throw shooter, who inexplicably missed both free throws that also would have iced it.
Matt Bonner
then secured the defensive rebound for the Spurs, who quickly took timeout to diagram a final, potentially game-winning play. Everyone in the building knew it was going to Manu Ginobili, who had
multiple game-winning plays in December
, and that included Pierce, who expertly contested a Ginobili jumper at the buzzer, blocking it cleanly without fouling.
Rajon Rondo
, who finished with an absurd triple-double (see below) then did his best
Magic
Johnson impersonation, tossing the ball high in the air to burn out the rest of the clock. Ballgame, Celtics.
The result was a little evidence supporting a conclusion made by Celtics center
Kendrick Perkins
: it will be
extremely difficult to beat this group
in a seven-game series. Even without Perkins and starting power forward
Kevin Garnett
, the Celtics managed to make multiple heady, playoff-type plays while in the process of throwing a game away. Robinson's rebound and dish, Pierce's defense and Rondo's clock killing are the kind of time/score plays that come naturally to a tested team, but pretenders always seem to mess up.
Wednesday night's madness is worth another look. Here's a nice video breakdown,
courtesy of NBAHiighlights on YouTube
.
GO-GO-GADGET LINES OF THE NIGHT:
Rajon Rondo
: 12 points, 10 rebounds, 22 assists, six steals, one block in 44 minutes in a Boston Celtics home win over the San Antonio Spurs.
Kevin Martin
: 45 points, two rebounds, four assists on 13-18 shooting, 6-8 three-point shooting, 13-15 free throw shooting in 39 minutes in a Houston
Rockets
home lose to the Portland Trail Blazers.
Dwight Howard
: 28 points, 13 rebounds, three assists, two steals, one block in 43 minutes in an Orlando Magic home win over the Milwaukee
Bucks
.
Kevin Love
: 35 points, 15 rebounds, five assists in 45 minutes in a Minnesota Timberolves overtime loss on the road to the Charlotte
Bobcats
.
Jose Calderon
: 20 points, three rebounds, 17 assists, two steals in 38 minutes in a Toronto
Raptors
road win over the Cleveland
Cavaliers
.
DON'T MISS:
WATCH OUT BELOW:
Four Denver
Nuggets
defenders try as hard as possible to avoid being in another Blake Griffin poster, but they fail.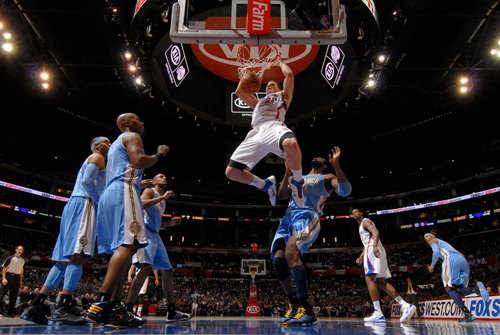 WHIMSY:
Stephen Dunn, a Getty Images, got a great snap of Chris "Birdman" Andersen's tattooed leg.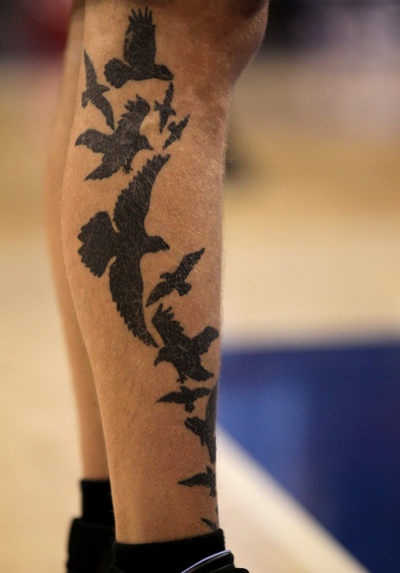 HIGHLIGHT REEL:
We're getting used to Blake Griffin throwing down, but this one-handed tomahawk alley oop jam after leading a 2-on-1 break with
Clippers
point guard
Baron Davis
was pretty filthy. And the fact that the break was started by
DeAndre Jordan
, who apparently blocked a shot with his elbow, is even better.
FINAL THOUGHT:
Since these posts continue to turn into all Blake Griffin all the time, here's Griffin talking about being selected for the NBA's Slam Dunk contest,
as quoted by TheRookieWall.com
. "I think I'm just gonna try and get up as high as possible and throw it down as hard as possible. You know, put a little show in there, put a little pizazz and see what we can come out with. Hopefully I'll have the home court advantage, but I don't know, we got a lot of good guys in there so I'm definitely going to try to play into that a little bit. I've got a few things up my sleeve. I'm not showing them yet."