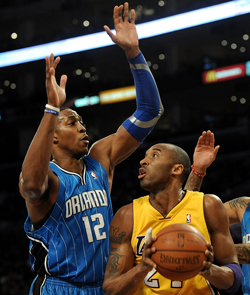 Posted by Royce Young
The third batch of All-Star returns are in and nothing much has changed.
Kobe Bryant
is still leading everyone,
Dwight Howard
still leads in the East and the snubs are pretty much the same. But here I am to update you regardless.
In the Western Conference, Kobe leads with 1,391,597 votes and is followed at guard by
Chris Paul
(724,605).
Kevin Durant
, a member of last year's All-NBA First Team, tops all forwards in the West (945,944), with
Carmelo Anthony
(742,284) second.
Yao Ming
(754,583), despite being injured, is the leading vote-getter among Western Conference centers, with the
Lakers
'
Andrew Bynum
(493,237) placing second who has also been injured most the season.
Howard, the leading vote-getter in the Eastern Conference with 1,205,159 votes, leads centers in the East, followed by Shaquille O'Neal (506,621).
LeBron James
leads all Eastern Conference forwards with 1,194,091 votes, followed by
Kevin Garnett
(850,687).
Dwyane Wade
, last years All-Star Game MVP, paces all guards with 1,167,649 votes; the
Celtics
'
Rajon Rondo
is second among guards in the East (929,781).
Two races worth keeping an eye on:
1)
Amar'e Stoudemire
isn't far behind Kevin Garnett. Stoudemire trails by about 25,000 votes and with Garnett injured, there's real opportunity to gain ground there and win the starting spot.
2)
Derrick Rose
is only about 12,000 votes behind Rajon Rondo for the starting point guard spot. It'll be tough seeing how Rondo has returned and put up a huge triple-double against the
Spurs
, but Rose certainly could put up a few big games and catch up to the Celtic star.
Other than that, it's all pretty much decided upon.
Starters will be announced Jan. 27.