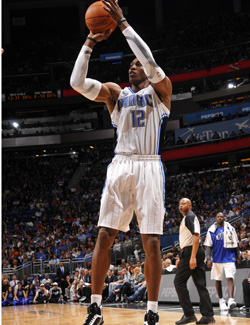 Dwight Howard has an improved jumper which Stan Van Gundy says is more due to Patrick Ewing than Hakeem Olajuwon.
Posted by Matt Moore
When Dwight Howard revealed he was training with Hakeem Olajuwon this summer, the general reaction from NBA media types was "Finally!" Finally Howard would get the offensive training he has so sorely missed in his career. There was even video of The Dream teaching Howard moves like the spin-to-the-middle fadeaway jumper. And when Howard displayed an actual real-life jumper this season, great celebration was given for Howard being willing to work with the great Hakeem Olajuwon and get the instruction he needed.
Well, Stan Van Gundy isn't so cool with that perception.
Van Gundy Wednesday made the following comments to NBA FanHouse:
Van Gundy was asked after the game about the improvement in the offensive game of center Dwight Howard, and his expanded shot selection this season. The question just referenced Howard's workout session this summer in Houston with Olajuwon, the former basketball great.

"This isn't a knock on anybody, but Hakeem has gotten more credit for two hours than anyone I've ever seen,'' Van Gundy said with very little prompting. "I mean, they were in a gym for two hours, three hours, and all of a sudden every shot Dwight makes is because of Hakeem.''

Stan Van Gundy Howard has given some of the credit to Olajuwon for giving him the confidence to expand his game. He also has worked closely for the past four years with Magic assistant coach Patrick Ewing, another Hall of Fame center. Van Gundy believes that Ewing's role in Howard's development is overlooked sometimes.

"There is not anybody alive who's turning somebody's game around in three hours,'' Van Gundy said. "Dwight has done a lot of work, and I'm sure Hakeem gave him some advice, but that's just starting to annoy me.''
via
Stan Van Gundy Dishes Out Digs on
Heat
, Hakeem Olajuwon -- NBA FanHouse.
Ewing has been under fire for the lack of Howard's development for years, and people were quick to attribute his improvement to Olajuwon. That's probably in part because of the historic perspective of Olajuwon versus Ewing when they played, particularly the '94 Finals when the Dream worked Ewing over on his way to a championship. But of course that has nothing to do with either's ability as a coach or trainer, and as Ewing is a head coach candidate on a Finals-contending team (kind of), it's probably right to be reasonable about how much Hakeem really contributed to Howard's improvement.
And then there are the numbers themselves. Howard
has improved inside ten feet
, from 44% to 50%, thanks to that improved jumper. And that's what's important. But it should be noted that his numbers at the rim, from 10-15 feet and from 16-23 feet are all worse than last season. Worse still, Howard is shooting a
career low
from the free throw line. Something in his mechanics which Ewing works with has to impact that.
The answer to all of this is that Howard seems like he's made significant improvements, scoring a career high (although only .7 points better per 40 minutes better than his previous career mark of 23.1 in 2009. But digging deeper, we're still left wanting, which begs the question of what exactly we're throwing around credit for in the first place.