Los Angeles Lakers All-Star guard Kobe Bryant describes the condition of his surgically repaired right knee. Posted by Ben Golliver.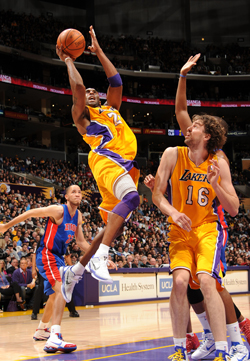 This week has been a virtual love fest for Los Angeles Lakers All-Star Kobe Bryant, as we've noted that he has entered the
NBA's top 10 all-time in scoring
and is
tops in the NBA's current All-Star voting
.
Bryant has been extremely durable during his NBA career, playing through pain so many times we often assume he is indestructible. But in
an interview with the New York Post
, Bryant offers a bit of a jolt concerning his health, confirming that he has not practiced all season because of the condition of his surgically repaired right knee.
"Because I have very little cartilage under my right knee cap, it's almost bone on bone."
Bryant has undergone three operations on that same knee, one this past offseason, after having it drained several times during last year's playoffs.
If that phrase "bone on bone" sounds familiar, it's because another Western Conference All-Star,
Brandon Roy
of the Portland
Trail Blazers
, used the same phrase to describe the condition of his knees earlier this season, before the team announced that he was
out "indefinitely."
Bone on bone isn't necessarily a death sentence, as many players have reportedly played on knees in that condition for a long period of time. But it does require extra monitoring, can be painful and could hasten a decline in athleticism. Bryant tells the Post the lack of practicing this year was part of a preemptive strategy to protect the condition of his knee after he had to have it drained during the playoffs last season.
"Until I got it drained the first time during the opening round against the Thunder I could not bend that knee at all," he revealed. "It was swollen as hell and it hurt like hell. Luckily things got a lot better once I had the procedure."
"So, in order to protect my knee and avoid a situation like last year, we decided before the season to sacrifice the team's intensity by minimizing wear and tear as much as possible."
So far, that extra attention seems to be working. Bryant's numbers have dropped this season, but just a touch, more in line with general aging than a falloff you might expect from someone with a troubled knee. The greater concern, obviously, is long-term for Bryant.