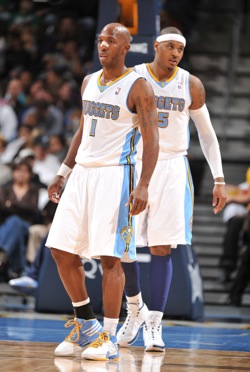 Posted by Royce Young
Just over 24 hours ago, we told you about how the Nuggets were possibly involving the Cleveland Cavaliers in a three-way deal that would send Carmelo Anthony to New Jersey. But as the world turns with this Carmelo crap, things have changed. I'm telling you, this is never going to end.
According to The Bergen Record, the Nets are in talks with of course the Nuggets, but have also involved the Detroit Pistons. Let me warn you, this gets a little complicated. But reportedly, the Nets would send Derrick Favors, Devin Harris and at least two first-round picks to Denver and Troy Murphy and his expiring contract to the Pistons. On top of that, ESPN.com reports the Pistons would have to take on Johan Petro's contract as well as send the Nets a first-round pick.
The Nets would of course get Anthony, but also a couple of surprise pieces. In addition to Carmelo, New Jersey would bring in Chauncey Billups from Denver and Richard Hamilton from Detroit. The Pistons have been shopping Hamilton and his remaining two-year, $25 million contract pretty hard this season.
The report says that more players would be involved to make the salaries line up, but this is just one of the many, many scenarios New Jersey is pitching. Also, reportedly the Nets are trying to trade straight up with Denver for Carmelo.
As Ken Berger has reported, the Nets have had an offer of Favors, Murphy and first-round picks on the table for a while. But as Berger has said, that type of trade might not happen until closer to the Feb. 24 trade deadline. The Nuggets aren't psyched about paying Murphy's salary right now, but might warm up to it when less is owed to him.
At first glance, this is a pretty tremendous deal for New Jersey if it were to happen. To unload Murphy, plus get Anthony, Billups and Hamilton? The question wouldn't be if this were a good deal for the Nets, it would be, "Are these guys contenders now?" Billups, Hamilton, Carmelo, Kris Humphries and Brook Lopez -- that's a pretty darn good starting five, is it not?
The Pistons move Hamilton -- something they desperately want to do -- and get a nice expiring deal in return. The Nuggets probably feel like they could've had more, but Harris, Favors and picks isn't bad at all. I'm not sure they're going to do much better than that.
However, Chris Broussard of ESPN.com tweeted that while the deal has been discussed, it's not happening in its current form. The Pistons aren't willing to give up Hamilton and a first-rounder for Murphy and Petro. And nor should they be. Pretty cruddy deal on their end.
Again, this is just the latest scenario that's surfaced that would move Anthony out of Denver. It doesn't mean this is The Trade that will happen or that in 24 hours we'll be hearing this went official. But it's clear the Nets are motivated to make a deal happen. They don't want to hang around until the deadline. They want to make this move now. And they're willing to call just about any and every team out there to get them involved to make it happen.