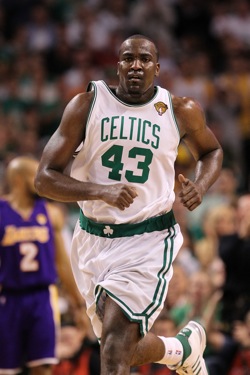 Posted by Royce Young
Via ESPN Boston,
Celtics
center
Kendrick Perkins
said he feels optimistic about returning to game action in as little as three weeks. On top of that, Doc Rivers said
Kevin Garnett
could be back in Boston's starting five as early as Monday.
Rivers said of Garnett: "He's shooting, doing everything. I think he'll be back early next week."
In other words, celebrate Celtic fans. Help is a comin'. Not that they really needed it
that
bad.
Rivers was asked if Garnett needed any practice time to get ready and the always clever Rivers said, "We're just going to throw him in. If he can't remember the stuff, we're in trouble."
Perkins, who tore his right ACL in Game 6 of the NBA Finals, was given clearance to begin contact activities and has participated in 3-on-3 drills and games. Perkins told reporters he plans to resume full-team practice next week and seems to feel good about being back in three weeks. Which would put on the roster for the Celtics' West Coast trip, which includes the first game with the
Lakers
on Jan. 30.
The question is, what does the Celtic rotation look like with Perkins back? Does anyone have playing time squeezed? With Perkins likely starting at center, that puts
Jermaine O'Neal
and
Shaquille O'Neal
behind him.
Most teams don't play three centers so it's definitely something to keep an eye on. Rivers has always been a fan of a deep bench and he's never been afraid to use everyone on it. So honestly it wouldn't be shocking if he worked players in and had 10 or 11 in the rotation. Especially since the Celtics are a bit on the old side, so keeping minutes down for Garnett, Perkins, and the O'Neal's is definitely a good idea.
Perkins is a free agent after this season, so he certainly has more to play for than just the Celtics at this point. He has to prove he's back and healthy. Motivation on numerous front: a good thing.