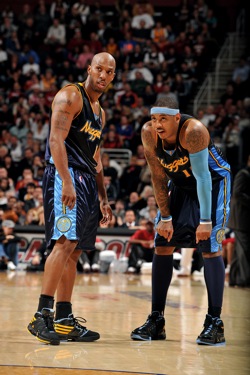 Posted by Royce Young
Chauncey Billups
loves playing in Denver. It's where he's from, it's where he went to college and it's where he really wants to stay for the rest of his career.
But with his name being brought up in the
Carmelo Anthony
trade talks
that could include as many as 17 players,
Billups has said he's fine with being moved, but he'd like to keep his options open after the season.
Via FanHouse,
Billups' agent Andy Miller said the veteran point guard would look for an offseason buyout so he could become a free agent. To presumably re-sign with Denver.
"I've been in constant contact with Masai [Ujiri] and made it clear that Chauncey's desire is to remain a Nugget for the rest of his playing career and thereafter,'' Billups' agent, Andy Miller, said by phone Saturday to FanHouse. "If any of these rumors were to come to fruition, Chauncey and I would definitely want to maintain our flexibility and explore our free agency as soon as possible.''

Billups is making $13.5 million this season and will make $14.2 million next. However, Denver -- or anything other team that might acquire him -- can buy out Billups' contract five days after the 2010-11 season for the
Nuggets
(or whoever he's with at that time) for just $3.7 million.
The report mentions the possibility of Billups asking for an immediate buyout if dealt to the
Nets
. Instead of playing with Anthony for one last hurrah, Billups might would rather go straight back to Denver and re-negotiate a new deal.
This type of talk really has to be nice to hear for the Nuggets though. Trade Billups and get his $27 million over two years off the books. Then have someone else buy him out, but re-negotiate a new deal with him afterwards, for what will probably be for fewer dollars or at least, in the area the Nuggets are comfortable with for their future.
Really, it kind of makes dealing Billups along with Anthony that much intriguing if you're Denver. You'll get more in return, plus you may end up with Billups again in the end anyway.