The Denver Nuggets, Detroit Pistons, and New Jersey Nets are reportedly advancing on a three-team that would include Nuggets All-Star forward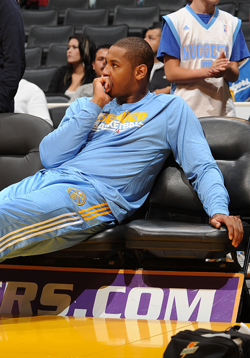 Carmelo Anthony. Posted by Ben Golliver.
Multiple outlets are reporting Sunday that a three-team trade scenario involving the Denver Nuggets, New Jersey Nets and Detroit Pistons that would send All-Star forward
Carmelo Anthony
to the New Jersey Nets is edging closer to fruition. The initial trade talks were
discussed here on Saturday
.
Yahoo! Sports reported
that talks were "progressing" and
the Bergen Record reported
that "things definitely are moving forward" and that a trade could take place "within the next 48 hours."
Sports Illustrated added
later Sunday that the deal is "as close as it's ever been.
ESPNNY.com recapped
the trade specifics as they stood later Sunday.
A three-team deal involving the Detroit Pistons that would include at least 15 players -- with Rip Hamilton and Chauncey Billups winding up in New Jersey with Anthony -- could be completed as soon as this week, sources said.
The primary elements of the scenario currently on the table, sources said, call for New Jersey to acquire Anthony, Billups and Hamilton; Denver to land Devin Harris, Derrick Favors, Anthony Morrow and at least two first-round picks; and Detroit to acquire Troy Murphy and Johan Petro.

The Pistons do not want to take back Petro, even though shedding Hamilton's contract in exchange for Murphy and the Nets' center would represent an overall savings of roughly $17 million.

This version is slightly tweaked from the original trade scenario
laid out on Saturday
.
The Nets would send Derrick Favors, Devin Harris and at least two first-round picks to Denver and Troy Murphy and his expiring contract to the Pistons. On top of that, ESPN.com reports the Pistons would have to take on Johan Petro's contract as well as send the Nets a first-round pick.
The Nets would of course get Anthony, but also a couple of surprise pieces. In addition to Carmelo, New Jersey would bring in Chauncey Billups from Denver and Richard Hamilton from Detroit. The Pistons have been shopping Hamilton and his remaining two-year, $25 million contract pretty hard this season.
Of every Carmelo Anthony trade proposal to hit the internet, this version is by far the most plausible, and it represents about as close to a win/win/win as you're going to find when a superstar of this magnitude trades teams. Here's a brief rundown.
For Denver, they get exactly what we've been saying they should want all along in an Anthony deal: younger talent, draft picks and some salary cap flexibility by moving Billups' contract.
For New Jersey, they get Anthony at a fairly reasonable price and get to surround him with another solid starting piece (Hamilton), and also potentially undo one of the worst signings of the 2010 summer, Johan Petro.
For Detroit, they get great value in dumping the unhappy Hamilton and saving big-time dollars down the road, and would get to enjoy the financial relief provided by Murphy's large expiring contract at the end of the season.
This one likely comes down to the last big hurdle: Whether Anthony will agree to sign a contract extension with the Nets, and whether he will agree to it now or decide he wants to wait longer.
Yahoo! Sports reports
that it "seems unlikely" Anthony wouldn't agree to a three-year contract extension with New Jersey now that Hamilton is in play, but Anthony has held his cards very close to his vest, so it's difficult to be sure.
Stay tuned.
UPDATE 8:32 p.m. ET:
Chris Mannix of SI reports that New Jersey is "convinced"
Melo will sign the extension
. Meanwhile
Yahoo! Sports reports
the following players are also involved in the deal, in addition to those previously discussed:
Ben Uzoh
,
Stephen Graham
, and
Quinton Ross
will go to Denver in the proposed deal, while
Anthony Carter
and
Shelden Williams
will go to New Jersey. Detroit is still only slated to get Troy Murphy and the point of contention that's holding the deal up: Johan Petro.