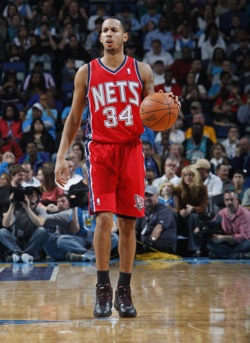 Posted by Royce Young
That
Devin Harris
trade to New Jersey a few years ago that brought the Dallas
Mavericks
Jason Kidd
is
still
something people debate and discuss. It happened in Feb. 2008 with the Mavs sitting near the top of the West at 35-17. After the deal, Dallas finished just 16-14 and didn't make much noise in the postseason.
Though Harris has played for the terrible
Nets
since the deal, most have always felt that Dallas got the short end of the deal.
The reason I bring all of this up? Because Dallas could be potentially interested in bringing back Harris.
According to ESPNDallas.com,
if the Nets,
Nuggets
and whoever else consumate the trade being discussed that sends Harris to Denver, the Mavs have talked about trying to deal with the Nuggets to get Harris.
The logic is this: First, because Jason Kidd isn't playing for forever. Dallas had Rodrigue Beaubois and J.J. Barea, but the Mavs are certainly interested in a long-term option at point guard. Second, Dallas needs some scoring help. Harris is a point guard by trade, but he's one of those that can score the ball as well as create. So there's an option to play him together with Kidd in the backcourt to provide Dallas the much needed scoring since
Caron Butler
's injury.
And third, Dallas knows that the Nuggets really don't have a ton of use for Harris. Denver likely would want to turn over the future at point guard to
Ty Lawson
who has given the Nuggets every reason to think he can handle it. Plus, Denver is looking to save a bit on its luxury tax bill and there's the potential that
Chauncey Billups
would get a buyout and want to return to Denver. Harris wouldn't have a lot of use then obviously.
Dallas's main focus is a wing option to actually fill the Butler opening. According to the report, the Mavs aren't locked in on a Harris deal, but
would be
if this whole mega-deal goes through. And on top of that, other teams would be looking to get in on Harris, something the Mavs don't want to see happen. (Portland is mentioned as one of those teams.)
Kidd has actually done well in Dallas. The Mavericks were doing great this season, before injuries started to become an issue. So Dallas looking into this trade isn't at all about Kidd. It's about the future as well as the present. The Mavs are trying to think about what comes next (Kidd is 37) as well as getting some scoring help now.
First through,
Carmelo Anthony
has to get freaking traded. And the world waits.