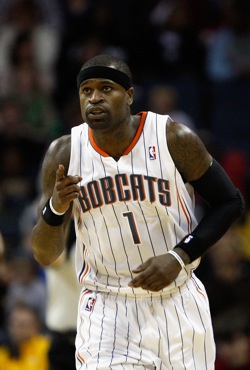 Posted by Royce Young
After firing Larry Brown, the Charlotte
Bobcats
are a respectable 4-2 under new coach Paul Silas. The team is playing faster, its young players are developing and there appears to be a little more energy and enthusiasm throughout the team.
Brown could see what was happening with the team and so could management. With the club just 9-19 after going to the playoffs last season, it was time for change. And guard
Stephen Jackson
, who is never shy,
said Sunday the change was absolutely necessary.
It's kind of like losing a team. Nobody wanted to play no more," Jackson said. "Everybody wanted to play a different style than we were playing. We didn't agree with what was going on. Obviously, it wasn't working, so we needed a change. We had to figure something out….

"We're younger and we have to play a little faster," Jackson said. "The makeup of the team is different and I think now with Paul (Silas) as coach the young guys have more confidence to go out there and play basketball and not worry about coming out of the game.
Basically, Jackson is trying to say without saying that Brown had to go. And I don't think anyone would disagree. Brown's management style has always been a little odd and can really wear on younger players. D.J. Augustin was having trouble playing with any confidence as he looked over his shoulder at the bench after every turnover. Tyrus Thomas couldn't ever seem to find the floor. And the best players like Jackson and Gerald Wallace just didn't seem to be all that interested.
All of those things are obvious symptoms of a coach losing a team. So like Jackson said, it kind of had to be done.
Especially when you consider at 13-21, the Bobcats are only a half game out of the eight-seed in the East. That really just speaks to how absolutely awful the lower half of the East is, but also shows that the season isn't a lost cause for this team. The Bobcats have some players and while losing Raymond Felton turned out to be a much bigger deal than anyone ever thought it would be, a little five-game winning streak or a plus-.500 month and this team is almost a lock for the postseason.
And I'm not sure they would be anywhere near this position if Brown were still in charge. A necessary move indeed.