Miami's coach says the Heat haven't yet shown greatness, Scottie Pippen has Dennis Rodman's back, Nate Robinson shares his thoughts on this year's dunk contest, Chauncey Billups really was sick, the latest on the Carmelo Anthony trade talks, and much more. Posted by Ben Golliver.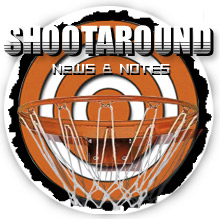 Miami Heat coach Eric Spoelstra says in an interview transcribed by SportsRadioInterviews.com that he has not yet seen greatness from his team. "We have proven that we can be great, we can be great on the defensive end of the floor, but we have not shown greatness yet. We do not do it on a possession or every single minute of the game mentality yet. We're moving in that direction and I think our guys understand that this isn't where we want to stop. To play really at the elite level, and we're talking seven game series, we need to be more consistent with that and that's what we're striving for and working for every single day."
Boston Celtics guard, and Slam Dunk contest champion, Nate Robinson says the NBA wants Los Angeles Clippers forward Blake Griffin to win this year's contest. The Boston Globe quotes Robinson: "It's time to basically let Blake Griffin win, because that's what they want. Hopefully the young fella can go on and get it done.''
Former Chicago Bulls forward Scottie Pippen is campaigning for his former teammate, Dennis Rodman, to make the Hall of Fame, notes NBA.com. "We all watched Dennis' career and we know just how good he was as a basketball player," Pippen said. "I think we all got caught up in his antics, and things he did away from the game, and it sort of disrespected or took attention away from what he did on the basketball court. But he is surely a Hall of Famer."
Yesterday, we noted that there was some speculation regarding Denver Nuggets guard Chauncey Billups' absence from practice due to illness, and ongoing trade talks between the Nuggets, New Jersey Nets and Detroit Pistons. Billups' agent, Andy Miller, tells Yahoo! Sports not to read into it. "He's really sick," Miller said. "He has a headache and was feeling under the weather. There is no correlation with regard to the rumors and speculation regarding a trade scenario. Chauncey's professionalism should never be in question in regards to his responsibilities as a professional athlete."
Here's the up-to-the-minute latest on Carmelo Anthony trade talks, which includes discussion of Houston's potential involvement and Denver's reported unhappiness with the public nature of the negotiations. "The teams haven't stopped talking, but the Nuggets are trying to show people that they aren't going to be rushed into anything," adds ESPN.com.
Minnesota Timberwolves president David Kahn lets the Associated Press know that no trades are imminent for his team and that patience continues to be a virtue. "As painful as this is, there was no way to do this with a quick fix and put the team into a position to dramatically rise overnight," Kahn said after practice. "It is really painful to work your way through this process. I'm actually encouraged that maybe it won't be as painful for as long as I once worried it would be."
The Utah Jazz are considering changing their starting lineup to fix some slow starts. The Salt Lake Tribune writes that point guard Deron Williams wouldn't comment on any specific changes, other than to say he wants to pick up the pace. "I want to run more, that's all I can say," Williams said.
Los Angeles Lakers guard Kobe Bryant says his knee "feels good," but he's back to sitting out of Lakers' practices after a short stretch of participating over the holidays, according to the L.A. Times. "It feels good," Bryant said after practice Monday at the Lakers' facility in El Segundo. I'm not going to answer questions about my knee every damn day. I said what I had to say. My knee feels fine. The key is to make it stay fine."
Toronto Raptors sophomore wing DeMar DeRozan tells TheScore.com he's not hitting the rookie wall this season. "I think around this time last year, I was so banged up," DeRozan reflected. "I think I hit the rookie wall or something like that. I remember just being tired, being banged up and I wasn't playing as many minutes as I am now. Just being able to get stronger in the offseason, being able to take the physicality of going inside with the big guys."
DimeMag.com has an interview with Greg Minor, Antoine Walker's former Boston Celtics teammate. Minor touches on Walker's current D-League stint.