Nike has served LeBronJordan.com, a startup shoe company, with a cease-and-desist letter. Posted by Ben Golliver.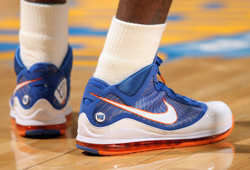 While
LeBron James
is busy
spanking himself on the court
, Nike Inc. is slapping a startup shoe company with legal paperwork requesting that it stop using James' name on its website.
According to the Portland Business Journal
, Nike sent a cease-and-desist letter to
LeBronJordan.com
, a Brooklyn-based startup shoe company that sells shoes that look strikingly similar to Nike's Air Jordans and Converse Chuck Taylors (Nike owns Converse).
The site's proprietor, Aaron Fraser, claims his website's name isn't a mash-up of LeBron James and Michael Jordan, Nike's two most famous basketball endorsers, but instead an homage to
his two godchildren
.
"I decided myself, I love footwear, why don't I create my own footwear," he said. "While we were discussing a suitable name, my wife suggested I use my two godsons."
The Portland Business Journal notes that Nike's cease-and-desist has legally requested that the website change its name to avoid "public confusion."
In the letter, dated Jan. 7, Jaime Lemons, an assistant counsel at Nike, asks Fraser to stop using the LeBron and Jordan names, take down his website at LeBronJordan.com, and cease any sales activity under the company's current name, arguing that it could cause "public confusion as to the source or affiliation of your products, resulting in infringement of Nike's rights."
Lemons notes that Nike has sold "significant amounts" of products using the trademarks Air Jordan and LeBron and owns several federal trademarks for those terms.
Fraser has responded, as you might expect, by decrying a company's ability to trademark an individual's name. Good luck with that argument.
James has had an endorsement deal with Nike since entering the NBA career directly from high school, and he recently
re-upped his contract in April 2010
. Jordan's relationship with Nike dates back to the early 1980s.
Hat tip: HoopsHype.