The Miami Heat have played LeBron James at center recently, and coach Erik Spoelstra says it could continue. Posted by Ben Golliver.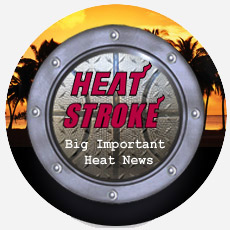 Here's an interesting detail that was lost in the Miami Heat's comeback victory over the Portland
Trail Blazers
, a win highlighted by
a ridiculous offensive stretch
from LeBron James and
punctuated by James spanking himself
after making a three-pointer in overtime: James played center on some defensive possessions down the stretch.
Much like the ringer on your local YMCA rec-league team, James is, at times, Miami's best ball-handler on offense and its strongest, most physical low-post presence on defense. Heat coach Erik Spoelstra took that fact to the extreme on Sunday night against the Trail Blazers, using James to cover Blazers center
Marcus Camby
.
The Sun-Sentinel reports
that the strategy paid off and that it might be used again.
"We've talked about it all season," Spoelstra said of the team's internal deliberations. "This certainly now is a good sign that we can start to do that. That might be a way we could use our versatility more."
James, for his part, seemed to approve.
While it is an approach that not only enabled the Heat to battle back from an eight-point fourth-quarter deficit, it could have more significant long-term implications. Without having to utilize a lineup spot for middling middlemen Zydrunas Ilgauskas, Erick Dampier or Joel Anthony, it could open potential playing time for Mike Miller, who now has been held out of four of the last seven games. "It's not going to work every game, but I think it was the right situation," James said. "Coach made a great call and we made some good plays."
Going small worked well against the Blazers because Camby is not a late-game threat to score, nor is he a traditional low-post big man. While he does crash the offensive boards relentlessly, James didn't need to worry about matching up with Camby's length and height on the low-block because that's not a key facet of Portland's attack, especially late in the game, when the offense generally runs through power forward
LaMarcus Aldridge
and Camby just chills on the weakside or at the high post.
Against the Boston
Celtics
, Orlando
Magic
, and Los Angeles
Lakers
, among other quality teams with true big men, using James at the five would be dead on arrival. But against small ball teams or those with non-traditional bigs, the Heat have every reason to counter by going small as well, as their collective talent level in those situations is sure to surpass that of virtually every opponent.
One last benefit of James playing center: there are that many more opportunities for him to corral a defensive rebound and immediately push in transition, where the Heat have been deadly lately. No big man in the league can keep up with him in the open floor, and this is an excellent way for Miami to easily create numbers on the break.