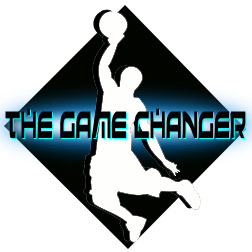 Game Changer, where Derrick Rose got up, got on up.
Posted by Matt Moore
Each game is made up of elements which help formulate the outcome. Monday through Friday, we'll bring you the elements from the night before's games in our own specialized version of the game recaps. It's not everything that happened, but it's an insight into what lead to the results you'll see in the box scores. This is the Game Changer.
SWEET MAMMAJAMMA: Derrick Rose and the infinite oop-ness
Let us begin with this ending-of-all-life-as-we-know-it dunk from Derrick Rose.
Note that Rose makes the pass then immediately calls for the alley-oop. For whatever reason, no
Pistons
give their teammate a heads up on it. Either they didn't see it or couldn't react fast enough. Certainly understandable, considering Rose moves at approximately the speed of sound.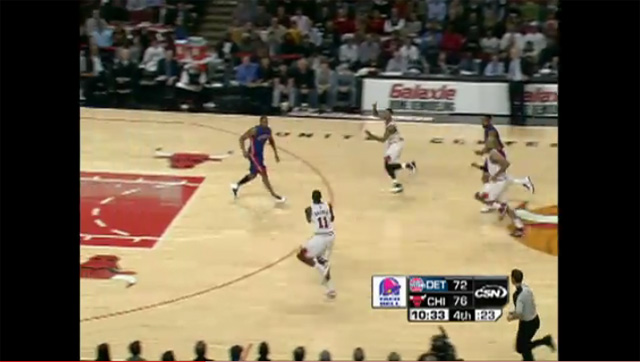 29 points, 5 rebounds, 7 assists, 2 steals, 1 block for Rose in the win.
THE BIG ONE: Boston struggles against the high-speed offense again
Remember when we told you that Boston
has issues with high-pace offenses
? Houston is fourth in the league in pace. Again, the Boston defense was unable to clamp down on a team that worked early in the shot clock. The obvious excuse is that Boston was without
Kevin Garnett
. But Boston had its chances and couldn't quite get a grip on a team who is likely unsympathetic to injury concerns in their own right.
Aaron Brooks
was able to hit a series of tough shots to keep the lead extended, and in the meantime,
Paul Pierce
struggled in the clutch once again. Most perplexing was a pull-up transition three with
Glen Davis
setting the screen right in front of him. Rondo missed a screen-splitting
Ray Allen
on a key possession late and threw it out of bounds. When you look at all the things
Celtics
normally do, they did almost none of them.
For the
Rockets
,
Kyle Lowry
is really showing his value, even playing at off-guard in the absence of
Kevin Martin
.
Patrick Patterson
very quietly had a good game with 10 points, 4 rebounds, and 4 assists, along with one very well-timed block on Pierce in the fourth.
Chase Budinger
was huge as a spot-up shooter, which for some reason the Celtics were fine with granting him.
For the Celtics?
Marquis Daniels
was brilliant, attacking and taking Rockets off the dribble using his length. But too often the Celtics wound up with trusting Glen Davis to hit jumpers. And while Davis has proven he can hit that mid-range, it's not something you want to trust in as many times as the Celtics did. The Celtics also could have used more of
Shaquille O'Neal
to slow the Rockets down, considering they had no way of stopping him. But the big fella only played twenty minutes and was a -8 in that time regardless.
GO-GO-GADGET LINE OF THE NIGHT:
Derrick Rose:
29 points, 5 rebounds, 7 assists, 2 steals, 1 block, 3 turnovers
RUNNER-UP:
Luis Scola:
12 points, 9 rebounds, 2 assists, 4 steals