Rasheed Wallace is reportedly considering a return to the Boston Celtics. Posted by Ben Golliver.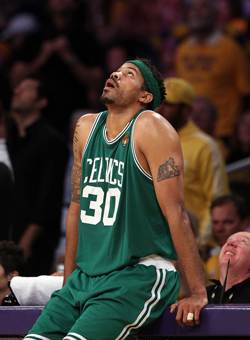 Last summer, former NBA All-Star power forward Rasheed Wallace called it quits, walking away from more than $12 million to
retire after 15 seasons
, following the Boston Celtics' loss to the Los Angeles
Lakers
in the 2010 NBA Finals.
Stephen A. Smith
told the Dan Patrick Show on Tuesday
, however, that Wallace may be plotting a comeback with his former team.
Smith said that the Celtics counter the Heat's athleticism with "brute size" and Rasheed Wallace will come out of retirement to come back to the Celtics.
Smith said Wallace told him that's the plan, because he wants another shot at the Lakers in the NBA Finals.
The Celtics currently have the league-maximum 15 players under contract, so they would need to waive someone to create a roster spot for Wallace if they are seriously considering the possibility of bringing him back. Should guard
Delonte West
fully recover from his wrist surgery, as expected, guard
Von Wafer
would be expendable and relatively cheap (less than $1 million) to waive.
Do the Celtics really need Wallace? At first glance, they already seem to be maxed out on washed-up former All-Star big men clinging to the remnants of their NBA careers, thanks to
Jermaine O'Neal
and
Shaquille O'Neal
. Once
Kendrick Perkins
returns from his knee injury, there won't be many, if any, minutes available for Wallace, provided everyone stays healthy.
The biggest variable here is the health of starting power forward
Kevin Garnett
, who recently
suffered a calf strain
that kept him out of action. Reserve forward
Glen Davis
has filled in admirably when Garnett hasn't been able to go, but an extra body at the four position might make for some added disaster preparedness should Garnett continue to be limited.
But we've also seen this same scenario play out 1,000 times: competitive former champions step away from basketball before they are mentally prepared to completely give up the game. We should know soon whether this is seriously being considered or merely another former athlete jonesing for another hit of playoff competition.
Update (7:13 PM)
: In less than a few hours, it appears that we have our answer.
NBA Fanhouse reports
that Wallace's agent, Bill Strickland, said Tuesday a return to the Celtics is not imminent for Wallace. ""I don't think that's the case -- for now anyway," Strickland told FanHouse. "He has a period of time to where he may be thinking about it, but he has not given me any indication of his intent to return. ... He's still saying that for now he's good, that he's OK where he is."
CSNNE.com also quoted
Celtics coach Doc Rivers saying that "there has been no discussion" about a Wallace return.