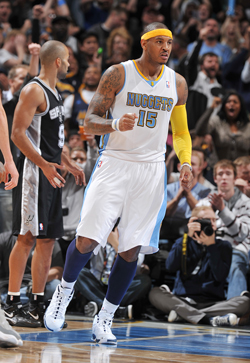 Posted by Royce Young
All the hemming and hawing between Denver and all involved parties over a potential
Carmelo Anthony
trade is holding up other deals,
according to Fanhouse.
Mentioned in the report is that the Nuggets and Portland Trail Blazers would get together on a second trade if Carmelo is sent to the Nets. The deal would involve Devin Harris being sent to the Blazers for Nicolas Batum and Andre Miller. This isn't the first Batum rumor out there and from all indications, Portland is extremely against moving Batum. Miller on the other hand is someone that's likely available to any and all.
But with 15, 16, 17 and maybe even 18 players mentioned in the rumored three-way trade sending Anthony to New Jersey, a lot of other things and being hung up because of all the pieces involved. No telling what those deals might be, but evidently other teams are waiting to see how this pans out before they grab their phones.
It is a little funny how so many players are potentially set to be uprooted because of Carmelo's situation. With potentially 18 players getting flipped -- not to mention the draft picks -- it's understandable how other general managers might not know what to do right now. It's understandable for other GMs to wait and see who ends up where and if that player is actually a long term piece in that new place.
And it's not only players that are having their future held by the Nuggets dealing with Anthony. George Karl's contract extension has reportedly been delayed as well because of the Carmelo stuff. Karl has indicated he wants to stay in Denver as long as possible and the Nuggets appear to want to keep him. It's just that with all the uncertainty, I guess the Nuggets want to get things settled first.
On top of that, all of this is surely having an effect on the actual players still playing in Denver. Every day they have to come to practice or shootaround with media members armed and ready to fire away with trade related questions. I'm sure Chauncey Billups isn't excited to talk about a potential trade right now.
So with all of this hinging on trading Carmelo Anthony, it just seems like the Nuggets will start to get a little more proactive. They've already dragged this thing along for this long, so obviously they aren't in any kind of rush. Even if that means that a good portion of the league has to sit on its hands waiting to see what happens.