Ted Williams, the Cleveland Cavaliers' formerly homeless golden voice radio announcer made famous recently, is reportedly entering rehab after being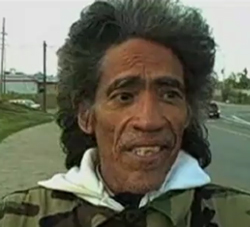 detained by the Los Angeles Police Department earlier this week. Posted by Ben Golliver.
On Tuesday, we noted
that Ted Williams, the formerly homeless man with a great radio voice who was given a job and a house by the Cleveland Cavaliers, was detained by the Los Angeles Police Department following an argument with his daughter.
Multiple media outlets are reporting on Wednesday that Williams, who has a lengthy criminal record and has admitted to battling drug and alcohol problems in the past, will be checking into rehab, just one week after
becoming an internet sensation
.
USAToday.com reports the details
.
Ted Williams, the homeless man with the golden voice whose viral YouTube video turned him in an overnight sensation, is entering rehab for drug and alcohol addiction, according to the Dr Phil Show.
Williams agreed to enter the private facility following a one-on-one interview with the show's star that will air tomorrow on the syndicated show.

TMZ.com reports
the same.
Williams made the decision during a taping for the "Dr. Phil Show" today -- two days after the LAPD detained him over a verbal altercation with his daughter at a Hollywood hotel.
According to a press release for the show, Ted "has been drinking daily, despite his adamant claims of sobriety."
While in Los Angeles this weekend, Williams attended the Los Angeles
Lakers
' shootaround and was even
filmed
meeting Lakers star
Kobe Bryant
.
No word yet on whether the Cavaliers will continue their relationship with Williams.
The Cavaliers lost to the Lakers in historic fashion on Tuesday night, 112-57.