Donnie Walsh has many reasons for his icy stance towards chasing Carmelo Anthony.
Posted by Matt Moore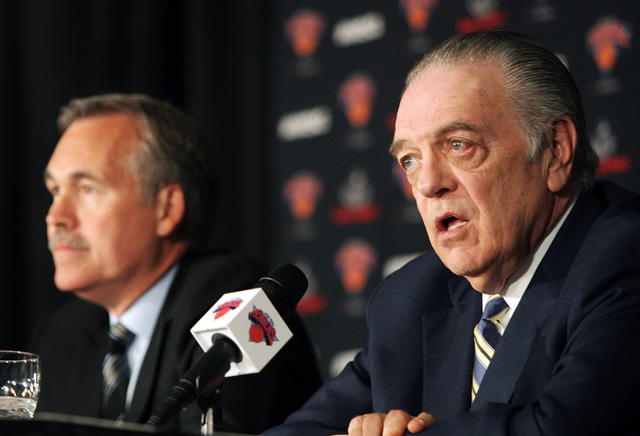 Ken Berger of CBSSports.com reports
that the
Knicks
are hanging back, withdrawn from the Carmelo Anthony trade talks with the
Nuggets
. There are
multiple reasons Berger cites
for Donnie Walsh not clamoring at Denver's doorstep like an overeager teenager asking for a prom date as the
Nets
have. Thing is, these are the reasons that leave you feeling like maybe Melo is just not worth all the hassle, even for all his high-scoring talents.
First, the Knicks haven't found it easy sledding since the beginning. To put it simply, Masai Ujiri just doesn't think the Knicks have anything worth trading for. New York is short on even the most basic asset, draft picks.
Danilo Gallinari
has never lit their fire as a building block the way, say,
Nicolas Batum
seems to. The Knicks have entertained talks to try and snag a draft pick, but at some point, you're just fighting a losing battle and trying to convince people who don't want to deal to deal. Attempting to gain leverage in such a situation is a losing endeavor, which is why we advised the Nets to
walk away months ago
. GM's consider their time valuable as all good business men do, and dealing with Ujiri and his constantly moving target and whimsical switching attitudes has probably grown long on Walsh's patience.
There's also the issue of what you'd have to surrender to get a deal done. As a source told Berger: "People think you can only win with another star," said the person plugged into the Knicks' internal strategy. "That's wrong. You win with a team. … They're not going to blow up their team for Carmelo."
The Knicks are 18-12 since December 1st, and with a big road win over Portland Tuesday night improved to a game over .500 in January. This alongside several tough losses to contending teams including the
Lakers
,
Celtics
, and
Heat
. The Knicks are no doubt legit, and with every game, the question becomes more and more not if they'll make the playoffs, but if homecourt in the first round is a reachable goal, especially considering the
Bulls
' injuries this season. Disrupting chemistry to bring in Anthony means taking a fairly thin bench and hurting it, even if they were to take one of the Nuggets' longer contracts along with Melo somehow (nearly impossible given the contracts on New York's roster outside of Stoudemire and Felton, unmovable building blocks). There's the question of how Anthony would fit into D'Antoni's system which so often shies away from ISO sets beyond Stoudemire at the elbow. Ball movement and sharing the ball are not exactly Anthony's strengths.
Finally, there's the simple issue of knowing that if Anthony should want to play for New York, as any self-respecting organization should feel its players should, he has that option. Melo can simply refuse extension offers to other trade partners, opt out, and join New York in free agency when they will be more than willing to spend on him. Versus the Nets, who seem hellbent on convincing Anthony that they are worthy, the Knicks know they are a team on the rise in the basketball mecca who play in the world's most famous arena in the grandest city on Earth. Having to sell guys on their team is not exactly a problem anymore now that they're winning. As it stands, Walsh has no reason to surrender unnecessary leverage in a losing fight when the option exists to get him within fairly even terms.
Besides, if reports from Yahoo! Sports are correct, Amar'e
is doing a fine job of selling Melo on the organization by himself
. The question of course
is if that constitutes tampering
, and if David Stern actually step in, something he hasn't done in previous instances. Another element which may make pursuing Melo all the less appealing. Then again, if they were to trade a draft pick, how is New York going to be punished? By losing
more
draft picks they don't care about? Still, Amar'e would seem to be the furthest point of the Knicks' pursuit at this point.
This is all before you start flirting with the idea of William Wesley being deep inside your organization, along with the rest of the CAA viper's nest. Those situations can get out of hand quickly, and for a team that seems to be bonding, introducing that element can also be considered dangerous. And so the Knicks hang back, knowing they have leverage, and that it is explicitly their lack of palpable assets with Denver's interest that makes them able to stand off. "You don't want us? We don't want you. Have a nice day."
Sometimes the best moves you can make are the ones you don't.