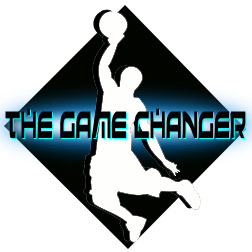 LeBron James and the Miami Heat finally lose, Elvis Night in Detroit, Blake Griffin throws down a double-pump dunk past Dwyane Wade, and the San Antonio Spurs run a gorgeous play for a big basket. Posted by Ben Golliver.
Each game is made up of elements which help formulate the outcome. Monday through Friday, we'll bring you the elements from the night before's games in our own specialized version of the game recaps. It's not everything that happened, but it's an insight into what lead to the results you'll see in the box scores. This is
the Game Changer.
THE BIG ONE: MIAMI HEAT FINALLY LOSE
The numbers were starting to get ridiculous. Nine straight wins. 13 straight wins on the road. 21 wins out of their last 22 games. Finally, karmically, the Miami Heat lost a game on Wednesday night, dropping a thriller in Los Angeles to the
Clippers
, 111-105.
The pre-game scene was reportedly a circus, as LeBron James
provided a wishy-washy explanation
for a
tweet seemingly directed at his former team
, the Cleveland
Cavaliers
. And while James, his teammates and his coach tried to play it off, the Clippers were busy playing out of their minds, running out to a 44-26 first quarter lead.
The Clippers' energy on both ends was something special, and they were able to maintain it for 48 minutes, avoiding a late collapse like that one that befell the Portland
Trail Blazers
earlier this week
. The Heat mounted a late push, but James was slowed by a sprained ankle (
video here
) suffered midway during the fourth quarter, and was noticeably dragging through the game's final minutes.
Clippers forward Blake Griffin has had about 238 coming-out parties so far this season, but Wednesday night was another one, as he rose to the challenge against marquee competition, finishing with 24 points, 14 rebounds and six assists. Griffin got into a heated exchange with Heat point guard
Mario Chalmers
, which drew a technical, but he responded to the emotion of the moment in the best way he knows how: throwing down a ridiculous double-pump dunk that sent the Staples Center into a tizzy (see below for video). And let's not overlook his gorgeous turnaround jumper off the glass that made him look more like a two guard than a four or his continued ownership of the backboards. He's an All-Star, case closed.
It wasn't just Griffin, though.
Baron Davis
was
rising up to dunk too
, and laying it out to dive on the floor for loose balls. Clippers guard
Eric Bledsoe
had a number of nice defensive plays and dimes, including an exceptional swat of James (see below). And
Eric Gordon
, perhaps the most unheralded scorer in the NBA, quietly put up 26 points, five rebounds and six assists to almost single-handedly offset 27 points from James. Put it together, and this was about as entertaining and theatric as January NBA basketball gets.
GO-GO-GADGET LINES OF THE NIGHT:
So, so many ridiculous stat lines last night.
Zach Randolph
: 34 points, 17 rebounds, two assists, one block, one steal in 46 minutes in a Memphis
Grizzlies
road win over the Detroit
Pistons
.
Dwight Howard:
29 points, 20 rebounds, two blocks, one steal in 48 minutes in an Orlando
Magic
road win over the New Orleans
Hornets
.
Russell Westbrook
: 23 points, 8 rebounds, 13 assists and two steals in 37 minutes in an Oklahoma City
Thunder
road win over the Houston
Rockets
.
Steve Nash
: 23 points, seven rebounds, 16 assists and one steal in 42 minutes in a Phoenix
Suns
home win over the New Jersey
Nets
.
Kobe Bryant
: 39 points, six rebounds, four assists, three steals in 36 minutes in a Los Angeles
Lakers
road win over the Golden State
Warriors
.
Blake Griffin
: 24 points, 14 rebounds, six assists, one steal, one block in 43 minutes in a Los Angeles Clippers home win over the Miami Heat.
D.J. Augustin
: 22 points, three rebounds, 12 assists in 39 minutes in a Charlotte
Bobcats
home win over the Chicago
Bulls
.
DON'T MISS:
WHIMSY:
The Memphis Grizzlies came to town so it was "Elvis Night" in Detroit. Oh, dear.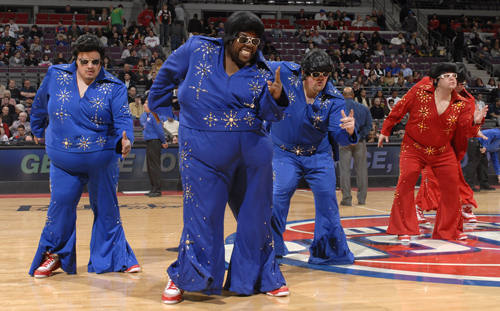 HIGHLIGHT REEL PART ONE:
Here's Los Angeles Clippers forward Blake Griffin throwing down a double-pump dunk to avoid Miami Heat guard Dwyane Wade and electrify the Staples Center crowd.
HIGHLIGHT REEL PART TWO:
Here's Los Angeles Clippers guard Eric Bledsoe getting way up to swat a layup attempt by LeBron James. via YouTube user thehoopscene.
FINAL THOUGHT:
It wasn't flashy like the Heat and Clippers, but it was oh so effective. You really must
take a look at this inbounds set play
, charted by NBAPlaybook.com, from the San Antonio Spurs, which brilliantly uses misdirection, confusion and multiple screens to free up
Tim Duncan
for an uncontested dunk.