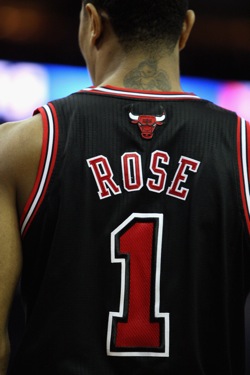 Posted by Royce Young
New All-Star returns are in again and this time there's some actual movement.
Derrick Rose
has passed
Rajon Rondo
and is now second in Eastern guards behind
Dwyane Wade
and Amar're Stoudemire has ovetaken
Kevin Garnett
at forward in the East.
Rose leads Rondo by about 50,000 votes and Stoudemire now leads Garnett by more than 100,000, which is kind of incredible. Somebody must of done some votin'.
Dwight Howard
still tops the Eastern Conference in total votes.
No real change in the West as
Kobe Bryant
still leads everyone, with
Kevin Durant
trailing.
Blake Griffin
has actually gained some ground, now trailing
Carmelo Anthony
for second place at forward by a little over 250,000 votes. And as we saw with the others, there's always the chance that someone is going to stuff the ballot box.
Pau Gasol
is also ahead of Griffin by 150,000 votes. So if Carmelo is traded and heads East, it'll be a race between Griffin and Gasol for that starting 4 spot.
Other than that, more of the same. Right now the starters in each conference:
EAST
G: Derrick Rose
G: Dwyane Wade
F:
LeBron James
F:
Amar'e Stoudemire
C: Dwight Howard
WEST
G:
Chris Paul
G: Kobe Bryant
F: Carmelo Anthony
F: Kevin Durant
C:
Andrew Bynum
(top vote getter
Yao Ming
is injured)
Starters will be announced live on TNT on Jan. 27.