An analysis of the NBA's top 20 scorers, with a look at which players are the most consistent. Posted by Ben Golliver.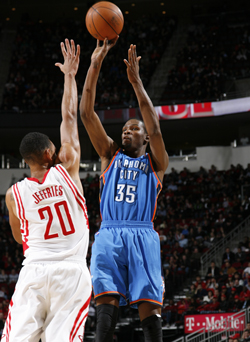 Scoring in volume has long been appreciated in the NBA. Wilt Chamberlain's 100 points;
Kobe Bryant
's 81; Michael Jordan's 63 points in the playoffs against the
Celtics
. Each of these scoring outbursts and countless others are front and center in NBA lore.
In recent years, scoring efficiently has been all the rage, with emphasis placed on players that shoot well from the field, get to the free throw line and don't require tons of shots to get their points. Players like
Carmelo Anthony
and
Monta Ellis
have drawn some criticism for their (relatively) inefficient chucking, while
Chris Paul
,
LeBron James
and
Dwight Howard
have received praise for their overall offensive efficiency.
But one critical aspect of scoring has been generally overlooked: consistency. Basketball coaches at every level are endlessly frustrated by players that don't bring it every night, and the NBA is no exception. Even among the NBA's elite scorers there can be a vast inconsistency in their output from night to night.
Case in point: Miami
Heat
guard
Dwyane Wade
, currently the NBA's No. 6 scorer at 25.1 points per game, scored 17 points, 11 points and 3 points in a three-game stretch in November. A little more than a month later, Wade exploded for 40 points, 45 points and 25 points in a different three-game stretch. In all six games, Wade played at least 36 minutes and took at least 13 shots. Imagine how difficult those inconsistent results are for Miami Heat coach Eric Spoelstra to plan around.
Keep in mind: Wade is one of the league's most consistent and voluminous scorers, and he would never be able to average 25 points per game if he wasn't. The inconsistency headaches for coaches only increase as you move down the depth chart or into a team's bench. Of course, there are plenty of reasons to explain scoring inconsistency: specific defensive match-ups, an opponent's defensive gameplan, nagging injuries, streaky shooting, foul trouble, the list goes on and on.
With that said, some players are going to be more consistent than others. And that consistency would seem to be valued by coaches. So let's ask and answer an interesting question: Of the league's top scorers, who truly represents the cream of the crop? Who brings it the most consistently on a night-in, night-out basis?
Let's take a look.
Scoring Consistency
Perhaps the cleanest way to calculate a player's scoring consistency is to use his game log to calculate his average scoring variance. This reflects how far from his scoring average he is on any give night. This sounds complicated, but it's really not.
For example, let's say I average 30 points. My two scoring totals were 20 points and 40 points. The average difference from each of those points to the average (40 minus 30 and 30 minus 20) is 10. Now, let's say I average 30 points but I scored 31 points one night and 29 points the next. The average difference between those points and the average (31-30 and 30-29) is 1. Obviously, I would be scoring more consistently in the second example, when my average variance is 1, rather than the first example, when my average variance is 10.
To further emphasize consistency, simply divide that average variance by the player's points per game. This gives a percentage between 0% and 100%. 0% is perfectly consistent, while 100% is completely inconsistent. In the first example, my percentage would be 33% (10/30). In the second example, my percentage would be 3.3% (1/30). We'll refer to that percentage as a player's Shake. The lower the Shake, the more consistent the player's scoring.
When you analyze the league's top scorers or No. 1 scoring options, almost all of them fall between 20% and 30% on this Shake scale. In other words, they won't always produce totally consistently, but they will produce within a fairly narrow range. If you move to reserve players, that number usually falls to 40% to 50%, a reflection of changing minutes and a generally lower talent level. If you move to the deep, deep bench players, a 60%+ isn't totally uncommon.
The League's Best Scorers, By Consistency
In this analysis, Shake was calculated for each of the NBA's top 20 scorers in games played through Tuesday, Jan. 12.
When we look at a scatterplot of the league's elite scorers in terms of their consistency, a few interesting pieces jump out. (
Click here for the full-size version
.) On this chart, the X-axis refers to points per game. The further to the right you go, the more a player scorers. The Y-axis represents scoring consistency: the lower you go, the more consistent a player is, the higher you go, the more inconsistent a player is. The best place to be on this chart is the lower right hand corner and its vicinity. Conversely, the worst place to be on this chart is the upper left hand corner and its vicinity.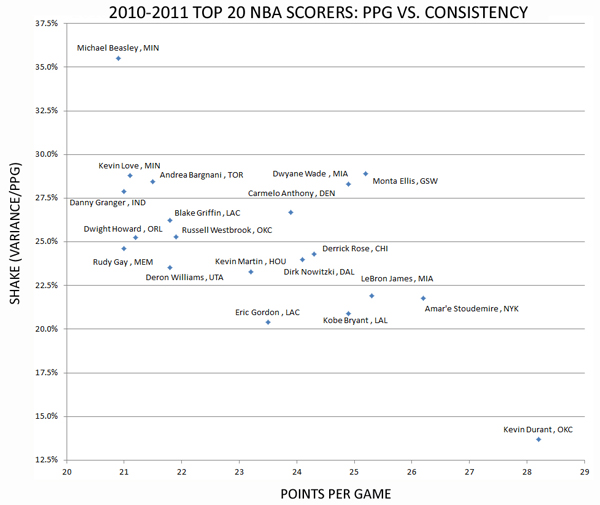 First, Oklahoma City
Thunder
forward
Kevin Durant
is absolutely in a class by himself. He's the league's best scorer, in terms of both volume and consistency, by leaps and bounds. Last year, Durant made headlines for his insane streak of 25+ points in a game and his consistency is off the charts again this year. His rating (13.68%) blows away the next closest player, the Los Angeles
Clippers
'
Eric Gordon
(20.4%).
Gordon is probably the biggest surprise in the top 20, as he's the league's No. 10 scorer but it's No. 2 most consistent scorer. Both Gordon and Durant succeed at an often-overlooked aspect of the game: getting to and converting from the free throw line. Whether Gordon will be able to maintain this scoring consistency through the rest of the season is an open question, but Durant is a shoo-in to retain his crown as the league's most consistent scorer.
Also interesting: compare LeBron James and Dwyane Wade of the Miami Heat. Both players score virtually the same number of points (James averages 25.4 points while Wade averages 25.1 points) but they do so with a meaningfully different amount of consistency (James is at 21.9% while Wade is at 28.3%). James' consistency is super-elite while Wade's is merely very, very, very good. If you're looking to make the case that James is now the alpha dog in Miami, these numbers help support that. Regardless of whether Wade is hot or cold, James is getting his numbers. It's worth noting that Wade did start the season slowly and his consistency may improve as the season continues.
Next, you'll see that players who have drawn the "inefficient volume shooter" label, guys like Carmelo Anthony and Monta Ellis, don't fare so well when it comes to consistency. This shouldn't come as a surprise, as the 3-17 nights that draw their fans' ire will obviously increase their inconsistency rating. But, Los Angeles
Lakers
guard Kobe Bryant, who is often criticized for calling his own number and breaking out of his team's offense, rates as the league's No. 3 most consistent scorer. It's an especially impressive achievement at 32 years old, as Dallas
Mavericks
forward
Dirk Nowitzki
is the only other player in the top 10 for consistency that's over 30 years of age.
Finally, as if you needed another reason to drool over Los Angeles Clippers rookie forward
Blake Griffin
, here you go. As the only rookie in the league's top 20 in scoring, Griffin also finds himself as the 13th most consistent player in the group (26.3%). In other words, he's coming by all those points honestly, and he's doing it on a night-in, night-out basis like few rookies in the recent past. It's possible that in a few years, should his 60% free throw shooting improve dramatically, Griffin could move into the league's top five most consistent scorers.
Full Rankings
In case you're interested, here are the full rankings for the top 20 NBA scorers in terms of their consistency.