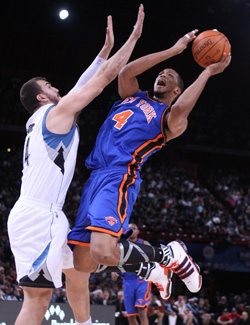 Knicks reportedly have deal in place to obtain a first-round pick for Anthony Randolph should they elect to pursue a Carmelo Anthony trade.
Posted by Matt Moore
The Knicks have a "contingent" deal in place to trade Anthony Randolph to the Minnesota
Timberwolves
for a first-round pick in the 2011 draft,
according to a report from the New York Post
. The deal hasn't gone through yet due to Donnie Walsh
being unsure about pursuing a trade
for Carmelo Anthony, the only reason the Knicks want that pick. The Knicks
have been pursuing the Randolph trade
for months in case they can manage to get Denver to relent and open discussions (or if the
Nuggets
get so mad at the
Nets
as to open such discussions
).
Randolph has been a disappointment his entire career. First in Golden State, where it was thought his problems were solely the result of Don Nelson's mismanagement, and now in New York, where the hyper-athletic youngster can't find time in Mike D'Antoni's system, which rewards hyper-athletic youngsters. He has pitifully low basketball IQ, difficulty with focus and has shown little to no playmaking ability. It's been the biggest disappointment for the Knicks in the last few months, which isn't bad considering how many pitches they've thrown.
A first-round pick wouldn't be a bad asset to obtain for Randolph, even if Walsh and D'Antoni decided Melo was too much of a hassle to begin with. With no 2012 pick, as it was traded to the
Rockets
, nabbing two players in the top 20 would benefit the Knicks' depth. Additionally, should the pick be top-three protected, for example, it would provide them with an opportunity for a 2012 replacement pick, which would suit them fine, particularly since the Wolves seem to be headed nowhere near .500 in the short-term,
Ricky Rubio
or no Ricky Rubio.
So Walsh may have the deal in place to start making moves. But with the Knicks still looking strong in the playoff hunt, he waits. This one may go down to the deadline wire on whether it goes through or not.