Portland Trail Blazers guard Brandon Roy is set to have arthroscopic surgery on both knees. Posted by Ben Golliver.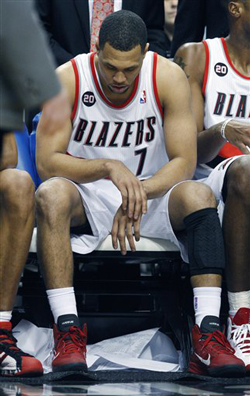 On Wednesday,
we noted
a report that Portland Trail Blazers guard Brandon Roy was considering arthroscopic surgery on his left knee. On Thursday, the Blazers announced Roy would have surgery on both knees next week, and that there is officially "no timetable" for his return.
Blazers GM Rich Cho
told The Oregonian
that arthroscopic surgeries generally have a 3-6 week recovery timeline and said, "hopefully [Roy] comes back this season."
Roy conducted
an interview with Blazers.com
in which he discussed the decision to undergo surgery.
"The biggest thing is we've been working with our team doctors, we've actually been able to get a number of different opinions, and it's something that we've finally decided that we're going to try this step. I've been sitting out for a number of weeks, just trying to do whatever I can, the best thing I can to be able to get back on the floor. So we decided to do the scope on both knees, allowing our doctors to go in there and clean up some things and hopefully get me back on the court as soon as possible."
Roy also said compensation pain caused by earlier surgeries necessitated these upcoming surgeries.
"But after having that right knee scope last year I started to compensate a lot so now is a good time for me to go in there and get them both scoped. Doing it at the same time will allow me to come back sooner than maybe waiting in between. My goal again is to get as healthy as I can so I can go out there and feel productive for this team."
Earlier in January, Roy was said to be considering meniscus transplant surgery . On Dec. 30, the Blazers shut down Roy "indefinitely" because of pain in both knees.
As noted Wednesday, questions remain regardiing whether an arthroscopic procedure will be able to relieve the persistent swelling and pain Roy experienced this season. It had been assumed and reported earlier in the fall that Roy's surgically repaired knees had deteriorated to the point that an arthroscopic surgery wouldn't be effective.
Cho also acknowledged this uncertainty, according to The Oregonian. "This is really a temporary fix. Nothing is permanent," he told the paper.
Once the scopes are completed, Roy will become the fourth Blazer to undergo multiple knee surgeries since Dec. 2009. He will join centers Greg Oden and Joel Przybilla, as well as rookie guard Elliot Williams.