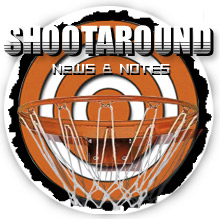 The Bulls miss Noah on offense, beards abound, J.O. may need surgery, and the Hornets need a big uptick in fans, still. All this and more in today's Shootaround.
Posted by Matt Moore
You know why the Bulls miss
Joakim Noah
? Because their offense is struggling. Noah
goes out and their offense falls off
. How weird is that?
The best beards from NBA
D-League's Showcase
.
Darko Milicic
won the opening tip last night.
A bit too much
. He ended up scoring on his own goal with it. Whoops. The Wolves won and Darko was big down the stretch. But can you imagine if the Wolves had lost by two points?
George Karl thinks the
Carmelo Anthony
tr
ade could fall through
. If Ujiri's previous actions have been any indication, though, Karl will be the last to know.
In case you missed it, Ben Golliver b
roke down the most efficient scorers
in the NBA. It's well worth a read.
Jermaine O'Neal
may not be able to avoid having
surgery on an ailing knee.
Speaking of injured
Celtics
bigs, Danny Ainge
is surprised Boston's bigs started missing games
with injuries this soon. And he should be. After all, they're only 7,000 years old.
Orlando Pinstriped Post
asks what more
Magic
fans want from
Jameer Nelson
.
One of what will be many looks at
Rondo versus Rose
for the next three years.
The Hornets
still need to average 14, 915 fans
in attendance over the next five games to avoid the elimination of the buyout penalty for their arena. Their
attendance on Wednesday
? 13, 688.