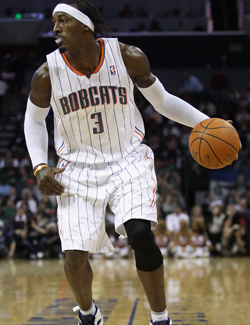 The Bobcats are reportedly considering trading Gerald Wallace for peanuts to struggling Cavaliers.

Posted by Matt Moore
Just when things seem to be looking up for Bobcats fans, here comes Michael Jordan.
Yahoo! Sports reports
that the Bobcats are considering trading Gerald Wallace, their lone All-Star, to Cleveland for ... a first-round pick and the Cavaliers $14 million trade exception garnered when their All-Star
LeBron James
took off for South Beach. That's it.
That the Bobcats are considering trading Wallace should be no surprise. He has a big contract with multiple years left on his deal. He'll garner the most assets as he is their best overall player, and he's the easiest to move as people are actually interested in acquiring him. The team has never really committed to Wallace as a building block, and Wallace struggled for durations under now-fired Larry Brown. Even with the Bobcats 6-2 since Paul Silas took over and in the 8th playoff spot, moving Wallace is the best plan towards a true rebuilding effort.
But this deal? This deal would be devastating. It's trading your best overall player, a high energy veteran who rebounds, steals, blocks, and scores for a first round pick when your history of drafts since Jordan came in with a strong voice has been nothing short of horrific. And that's counting
D.J. Augustin
who has looked phenomenal this year in a season where many expected him to fail. Trading Wallace for only a pick and the trade exception, which you're unlikely to be able to move again in a clogged trade environment (thanks to both the upcoming CBA talks and
Carmelo Anthony
's situation) would set your franchise back significantly. All-Stars do not grow on trees in this league, and while Wallace is not a No.1 guy you can build around, he's a No.2 guy you can help to build around that star, should you find him.
For the Cavaliers, the deal makes sense to a certain degree, but only to a certain degree. Yes, he's a player you can help build around a star with like I said, but that's $31 million and three-years remaining on that player when you don't have that star in place and are as far from contention as you ever has been. The Cavs need to stay light and trim, maintaining flexibility should the right move come along, and target more draft picks, not fewer, in an attempt to rebuild. Make the right moves and you can pull yourself into
Thunder
capacity. But commit yourself to margin All-Stars without ever finding that No.1 guy and you're going to be spinning your wheels in NBA purgatory, the last place on Earth you want to be.