Miami Heat forward Chris Bosh offers his advice to Denver Nuggets GM and former Toronto Raptors executive Masai Ujiri regarding Carmelo Anthony.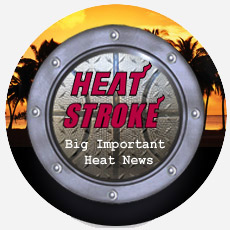 Posted by Ben Golliver.
Well, this is just a depressing topic.
The Denver Post asked
Miami Heat All-Star forward Chris Bosh, who left the Toronto Raptors last summer during free agency, what his advice would be for former Raptors executive Masai Ujiri, who is now the GM of the Denver Nuggets and in the midst of shipping out All-Star forward Carmelo Anthony via trade.
"That's a good question," Bosh said. "That's why I'm glad I'm not a GM."
"Just communicate," Bosh said. "It's a business. Whether a move is made or not, just communicate. I think that's important. And just keep the respect and at the end of the day nobody can say the other wasn't professional if they part. Period."

"As soon as [Masai] was coming [To Denver], I said 'Ooh. He's got his hands full with all the rumors,'" Bosh said. "The rumors had started already before all that. It was just like 'Aw man he's going to have to deal with that and do a good job. But you know, Masai, he works hard and he's a great guy. I think he'll be fine."
This is akin to asking a man that chose to leave his wife to offer advice to his ex-wife on her pending divorce with her second husband. Brutal. Clearly, there wasn't a lot of room for Bosh to work with here, but he did a solid job of being cordial, empathetic, complimentary and professional all at once.
Judging from
Masai's fierce BlackBerry skills
that were shown on national television on Thursday, it looks like he's following the "just communicate" advice with no problem.