The NBA has awarded the Houston Rockets a disabled player exception for center Yao Ming. Posted by Ben Golliver.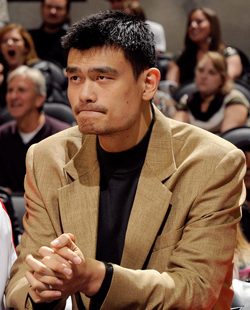 Back in December, we noted that Houston Rockets center Yao Ming suffered
a left ankle stress fracture
that required season-ending surgery. While Yao's expiring contract has come up in
trade talks
in the interim, the Rockets have received another potentially valuable trade asset as a result of Yao's injury.
The
Associated Press reports
that the NBA has awarded the Rockets a disabled player exception for Yao's extended absence due to injury.
The disabled player exception allows the Rockets to acquire a free agent, or trade for a player without having to match salaries, up to the value of the midlevel exception (about $5.765 million). KRIV-TV first reported that the Rockets had been granted the exception. Houston must use it by Jan. 31 or it will expire.
We noted
back on Dec. 21 that the Rockets would pursue this exception, which requires approval of the league office.
The
Houston Chronicle reports
that the Rockets also possess a separate trade exception worth more than $6 million that doesn't expire until the summer. While the exceptions cannot be combined, they can each be used to accept salary in an unbalanced trade, allowing the Rockets to receive a player's contract without necessarily sending out a player in return.
While the clock is ticking for Rockets, with just two weeks to go before the exception expires, they have found themselves linked to a number of trade scenarios recently, including the
Carmelo Anthony
trade talks. At 17-22, in last place in the Southwest Division, the Rockets are surely tempted to explore all their options with this exception. In addition to their two exceptions and Yao's expiring contract, the Rockets also possess the expiring contracts of
Shane Battier
($7.4 million) and
Jared Jeffries
($6.8 million). If GM Daryl Morey is compelled to mix things up, he certainly has some flexibility and options.
Here's one thing to keep in mind, though: the Rockets are currently on track to be luxury tax payers, so using this exception simply to take on additional salary without moving out any of their current players is unlikely, as any new incoming salary would wind up costing owner Les Alexander double. Lottery-bound teams don't often make that type of financial commitment mid-season, unless it's as part of a blockbuster-type move.
Earlier this season, the Miami
Heat
and Portland
Trail Blazers
also received disabled player exceptions for forward
Udonis Haslem
and center
Greg Oden
, respectively, but both teams allowed their exceptions to expire.