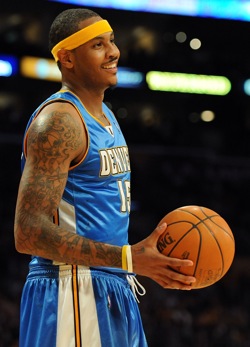 Posted by Royce Young
Carmelo Anthony
is finally saying what we've all already known for months. He really, really, really wants to play in New York.
In an interview with ESPN,
Carmelo said playing in New York would be his "ultimate dream."
"That's like the ultimate dream at the end of the day," Anthony said. "Who wouldn't want to go back home to play?"
Ask LeBron about playing back home. Sometimes it's not all it's cracked up to be. But I digress.
Carmelo is from the Brooklyn area, having been born there and played at Syracuse which is naturally in New York. And of course the
Nets
will be moving to a brand new arena in Brooklyn in 2012.
"I see what the future holds, they'll move into Brooklyn. ... Me going back home to Brooklyn, opening that arena, I think about all that stuff," he said.
But this doesn't mean it's the Nets he's referring to when he says he wants to play back home. He grew up loving the
Knicks
and right now, they're still the only team located in his hometown.
Carmelo has never hinted at anything publicly, instead just deferring to the "keeping my options open" line. This is really the first time he's admitted that he has New York on his mind. But still, he didn't rule out the
Nuggets
either. He mentioned them as well, saying that's a possibility. We all know that's not true, otherwise he'd have signed that big $65 million extension long ago.
According to a report from Newsday,
the Knicks are firmly at the top of Anthony's list but if that proves to not be possible, the Nets are "1A". Still, that doesn't make a whole lot of sense to me because Anthony can sign with whoever he pleases. So if he truly wants to play for the Knicks, all he has to do is say "no" to whoever he's traded to. Denver is going to deal him. We know that. But Melo doesn't
have
to sign with anybody.
The hook there is though, he probably would prefer to sign now rather than later. If he waits until the extension option expires, he could be looking at a major paycut because of the new collective bargaining agreement. So while Anthony might want to play for the Knicks, he possibly would settle on the next best thing and play for the Nets in Brooklyn.
Also interesting in Anthony's comments is that it also sounds like he's paid very close attention to what happened with LeBron, his decision and the fallout that's still hanging over everything he does.
"Any decision I make is the biggest decision of my life," Anthony said. "It'll carry on and it'll follow me for the rest of my life, too ... [This decision] will define my legacy."
Always weird for a player to use the words "legacy" when just talking about what type of laundry he'll be wearing the next few years, but Carmelo is perceptive. He knows the deal. Even if people are a bit wacko when it comes to a guy just wanting to play where he wants, he realizes that this move is going to be critiqued. People are going to tell him what he should've done, what he shouldn't have done and what he still should do. It's the way it works now. Sadly.
Ken Berger in his latest report said this deal likely has a ticking clock on it with so many pieces involved. There's no way all these players will be allowed to keep playing with a potential deal sitting on the table. So by the middle of next week, this will either be done or the Nuggets will be back to the drawing board.