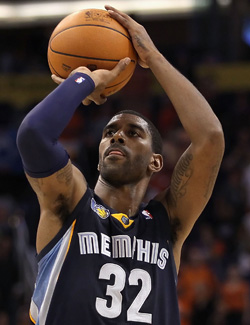 Posted by Royce Young
For a brief moment,
O.J. Mayo
was roped into the Melodrama.
He was part of a three-team deal
involving the
Knicks
that would sending
Carmelo Anthony
to New York and Mayo to Denver.
CBS Sports' Gary Parish tweeted recently
, "I was told [Thursday] by somebody in the know that the
Grizzlies
will move him because they feel they must."
Except Denver wasn't all that interested. And on top of that, the Grizzlies aren't willing to deal Mayo right now.
General manager Chris Wallace said the team has no intention of trading Mayo
and also threw in a token line about not speaking with Denver or New York about a three-way trade.
Of course that's just what Wallace says. That doesn't necessarily make it true. I seem to remember Ted Leonsis adamently denying trading
Gilbert Arenas
and naturally, we know what happened there. You see, front office types tend to lie about these types of things. And we think that
LeBron James
is a bad guy for not telling his former team where he was going. But that's a whole other story.
The reason the Grizzlies might feel they "must" is because of the fight between Mayo and teammate
Tony Allen
over cards. The Grizzlies are the type of team operating on ice a bit with
Zach Randolph
on the roster (who has been nothing short of wonderful) and likely don't want to upset any chemistry on the young team.
But Mayo is clearly part of their future. Memphis used a high pick on him and is committed to him being a big part of their core.
Also,
Newsday reports
that the Grizzlies intend to match any offer for
Marc Gasol
in free agency. Earlier there was talk of Gasol signing in New York to become a perfect big man complement to
Amar'e Stoudemire
, but it looks like the Grizzlies aren't going to try and keep their core intact.
So the Grizzlies aren't looking at blowing anything up and building around
Rudy Gay
and
Mike Conley
yet. By the sounds of it, they want to keep this young team together and let them grow up.