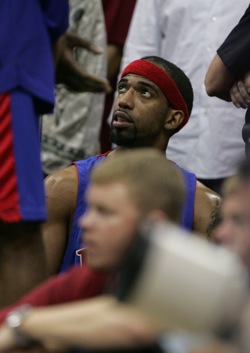 Posted by Royce Young
If anything is signaling a potential three-way trade looming, it's
Richard Hamilton
.
With the
Pistons
involved in a rumored deal that would send
Carmelo Anthony
to New Jersey, Hamilton has received two consecutive DNP-CD's. The first, ticked Hamilton off. Teammate
Tayshaun Prince
called it "buffoonery." The second? Hamilton almost seemed resigned to the fact his time in Detroit may be done.
He told the Detroit Free Press
when asked if he's played his last game for the Pistons, "I don't know. I really don't know. The way it's been going, I don't think so. But you never know. I just say it's one of those things where I stay ready."
That's not to say Hamilton doesn't want to be playing. The Pistons, well, stink, and Hamilton is one of their better players. "Do I want to play? Yeah. Do I want to be on the floor competing? Yes. Am I doing that right now? No," Hamilton said. "So I want to play. I want to get out on the floor. I want to be able to get the opportunity to do what I love to do, and that's play basketball."
While the benching appears to have everything to do with the potential trade, Hamilton is almost taking it as a legit benching. Which why shouldn't he? He's been sat down and he's one of the team's best players. Nobody else involved in the trade talks has been benched, so Hamilton probably doesni't see why he is.
As good a player as Hamilton is, he's clearly on the way down. He's averaging a career-low 13.2 points per game on a career-low 41 percent shooting. His contract has been something the Pistons have wanted to get off the books for a while and with his skills obviously declining, maybe coach John Kuester is just trying something new with a struggling team.
Then again, maybe it has everything to do with Melo.
You'd think Kuester and general manager Joe Dumars would let Hamilton know what's going on though. He was a key part of the 2004 chamionship team and has spent 12 years in Detroit. You'd think he was at least owed an explanation instead of just a silent benching. Maybe that would at least help him understand, either way. If this is about Melo, fine. If it's because he's not played well, fine too. But at least he'd know. And so would his teammates.