Boston Celtics forward Kevin Garnett has been sidelined for more than two weeks with a calf strain, but could return to the court on Monday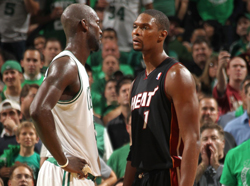 night.

Posted by Ben Golliver.
Back on Dec. 29, the Celts fans and the sports blogosphere held their breath as K.G.
suffered a leg injury
while dunking against the
Pistons
. The injury turned out to be
a calf strain
and Garnett's timeline for return was pegged at a "couple of weeks."
Sunday, a little more than two weeks after the injury,
the Celtics reported
that Garnett went through an entire practice and that "it sounds as if he will be in the lineup tomorrow night against the Orlando
Magic
."
ESPNBoston.com reported
Garnett is "50/50" for tomorrow and "will wait to test himself again at shootaround on Monday before deciding if he's a go."
According to WEEI
, Celtics coach Doc Rivers told the media on Sunday, "I think Kevin will go tomorrow. We went to practice to see if he could go tomorrow. Meaning we'll know that by tomorrow. If he feels good, he'll go. If there's anything [wrong], he will not go. I would probably put it back to 50-50."
This news firms up
a report from last week
that listed Monday as Garnett's likely return date.
The Celtics host the Magic on Monday night in a matchup of two of the NBA's premier teams. The Celts are 30-9 on the season; the Magic, 26-14. Boston lost to Orlando 86-78 on Christmas Day in the only meeting between the teams so far this season.
Without Garnett, the Celtics are 6-3 this season. The 13-time All-Star is averaging 15 points, 9.5 rebounds, two assists and 1.7 steals in 31.6 minutes so far this season.