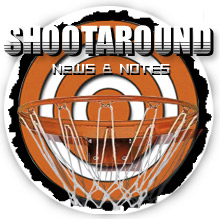 Posted by Royce Young
Ken Berger has some great new insight and info on the Melodrama: "The best move now? That would be for Anthony to inform Ujiri and Kroenke to cool it with the trade talks -- and that he will wait until the end of the season to address the extension. Under the current rules, Anthony can re-sign with the Nuggets any time before July 1. Once the season is over, Anthony could be moved in an extend-and-trade all the way up to July 1, as well."
Gregg Popovich said James Anderson will return in Austin: "This coming week, he's going to be going one-on-one, two-on-two, three-on-three, that kind of thing, so he'll have his first contact. The end of the week, or some time the following week, he'll go down to the D-League to play for a while, so he's a couple of weeks away from coming back to us, probably towards the end of the month."
Otis Smith is a little worried about Dwight Howard's option: "I'd be crazy if I didn't. Of course. At end of day, I think he wants to stay here and wants to win here. But with so many marquee guys moving, it's kind of hard for me not to have any angst about it."