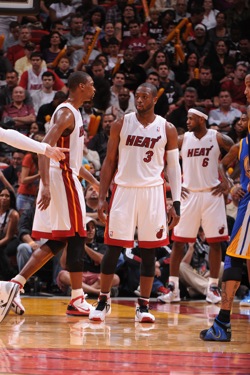 Posted by Royce Young
Other than
Blake Griffin
, the only thing that's slowed down the Miami
Heat
over the past few weeks is the injury bug.
LeBron James
sprained his left ankle against the
Clippers
,
Dwyane Wade
fell awkwardly on his knee in that same game and
Chris Bosh
sprained his ankle against the
Bulls
when Omer Asis endangered his life and well-being by hustling.
As a result, all three missed practice Monday for the Heat and are questionable for their game against the
Hawks
Tuesday.
According to a tweet from Brian Windhorst,
Bosh is doubtful while Wade and LeBron are "more likely."
LeBron was close to going against the Bulls Saturday, but sat out as a precaution. He said that he would've gone if this were the playoffs, but sat because it wasn't. Wade played, and played well, but the knee has been a bit sore since the Clipper game. It's not anything serious, just something he's trying not to overwork.
Let's just assume the Miami trio is unable to go Tuesday. What would that Heat team look like? How about not very good. The starting five would likely be
Mario Chalmers
,
Eddie House
,
James Jones
,
Juwan Howard
and
Zydrunas Ilgauskas
. A far cry from the powerful Heat team we've seen run to a 30-12 record. That starting five might not even be able to beat the Cavs. Well, let's not get carried away here. The Cavs are horrible.
But the Heat have dropped three straight and are definitely eager to get back on the winning side of things. With a good Hawks team ahead, I would assume Wade and LeBron will make every effort to be on the floor. It's not the playoffs, but it is a relatively big game against an Eastern opponent and with a three-game skid on their minds, I'm sure there's a little more incentive to play.