The Portland Trail Blazers have announced that guard Brandon Roy has undergone successful surgeries on both of his knees. Posted by Ben Golliver.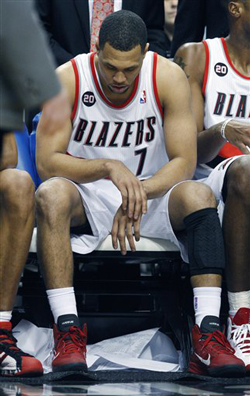 The Portland Trail Blazers announced that All-Star guard Brandon Roy underwent successful arthroscopic surgery on both of his knees on Monday. Roy remains out indefinitely.
Portland Trail Blazers guard Brandon Roy underwent successful arthroscopic surgery Monday on both knees, it was announced today by General Manager Rich Cho. Dr. Don Roberts performed the surgery in Vancouver, Wash. No timetable has been set for Roy's recovery.
"We're hopeful today's procedure will help alleviate some of the pain Brandon has been experiencing in his knees and allow him to get back to playing basketball again," said Cho.
Roy, 26, has missed 18 games this season (three games from Nov. 16-20 and the last 15 games beginning on Dec. 17) with a sore left knee. In 23 games (all starts) this season, Roy has averaged 16.6 points, 3.0 rebounds, 3.3 assists and 1.13 steals in 35.3 minutes per game. He scored 20 points or more in nine contests and led the team in scoring eight times.
The Blazers announced last week that Roy would undergo arthroscopic knee surgery rather than meniscus transplant surgery, which he had also been considering. Back in December, the Blazers ruled Roy out indefinitely with soreness in both of his knees, which have both been operated on previously.
The goal of these surgeries was two-fold: to relieve Roy of his knee pain and to further examine the condition of his knees, which is often easier done during the surgery rather than on an MRI. It's not yet known whether these surgeries will have any impact upon Roy's ability to withstand the rigors of an 82-game season, but the minor nature of the procedure should allow him to make a relatively quick comeback.
Once Roy is back up to speed, which will likely happen prior to the playoffs, the Blazers will have a difficult decision to make regarding whether or not to re-insert him into the rotation and/or starting lineup. The Blazers are currently the No. 8 seed in the Western Conference, but have struggled often to close out games and could use Roy's late-game shot-making abilities. That is, of course, assuming that Roy is able to move more freely than he was earlier this season, when swelling and soreness greatly limited his mobility and effectiveness.
In Roy's absence, guards Wesley Matthews and Rudy Fernandez have seen their roles increased, as has forward Nicolas Batum, who was re-inserted into the starting lineup when Roy went down. Matthews, a second-year guard, has made a solid case for Most Improved Player so far this season, but is not able to provide the scoring consistency that made Roy an All-Star.