Denver Nuggets All-Star forward Carmelo Anthony predicts an NBA lockout is coming "without a doubt." Posted by Ben Golliver.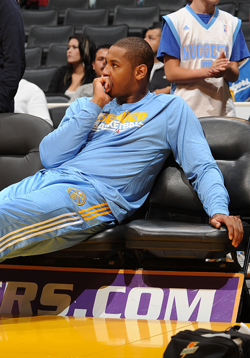 Early Tuesday,
we noted a Sports Illustrated report
which stated that Miami
Heat
forward
LeBron James
(perhaps jokingly) advised Denver Nuggets forward Carmelo Anthony to team up with forward
Amar'e Stoudemire
on the New York
Knicks
, if Anthony was serious about competing against the Heat.
In
a companion piece from Sports Illustrated
, Anthony provides some insight into his decision-making progress, noting that "all my family is East -- back home" and stating that he is motivated to sign a contract extension this year because he strongly believes there will be a lockout next season.
Is there going to be a lockout? "Oh, without a doubt," [Anthony] said. "Without a doubt."
So that's another reason to sign the extension now, I said.
"Exactly."
Many NBA players have expressed concern about the possibility of a lockout, but few have made their thoughts on the subject this plain. Only former NBA All-Star Stephon Marbury, now playing in China, has been
this blunt and pessimistic
, guaranteeing a few weeks ago that there would be a lockout and predicting that the players will "cave."
What's more, Anthony is the first star to publicly tie his thoughts on a league-wide lockout so directly to his personal contract situation. Anthony's statements align with his long-assumed positions -- he wants to play in New York, re-signing with Denver is not his top priority, and he will agree to an extension this season one way or another -- and, when taken in sum, reveal a very lucid, thoughtful and professional approach to a tough situation.
While the storm of negativity surrounding Anthony and all the trade talks will continue to blow until this situation reaches a resolution, Anthony's approach will almost certainly leave his long-term legacy in much better shape than that of James or
Chris Bosh
. Anthony comes across both as humane and human, and also authentic and honest. He's delivering tough news gently, rather than with a jackhammer. When we look back in a few years, that will count for something.