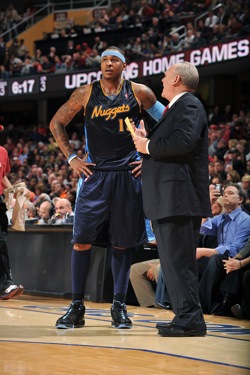 Posted by Royce Young
Most of the time, when a player is rumored to be involved in trade talks, people talk about what a distraction it is. Players and coaches always deny it. But we know to some degree, it's real.
And most players haven't been involved in rumors like
Carmelo Anthony
. We're going on almost nine months of trade rumors and speculation at this point and
as George Karl told Fanhouse,
all of it's finally starting to take its toll.
The Nuggets have actually performed fairly well of late, beating the Suns, Cavaliers and Heat by a combined 90 points last week before submitting to the Spurs over the weekend. But Nuggets coach George Karl isn't satisfied with Anthony's commitment during practice.

"If Melo plays distracted, I can't play him as many minutes," Karl, whose Nuggets play host to Oklahoma City on Wednesday, told FanHouse. "I thought he was very distracted (Tuesday)... I don't know (if it's because of trade rumors). I don't have that answer."

Karl said overall the Nuggets had a very bad practice Tuesday and the team looked distracted, but he was willing to single out Anthony.
At some point, it was going to catch up to the team. It just had to. But give credit to Karl and company. The Nuggets have held it together relatively well and are still in the playoff hunt and are hanging in the rough and tumble Northwest Division.
But Karl is talking of cutting into Carmelo's minutes. That's pretty strong. Melo hasn't played exceptionally well the past few weeks, with two separate games with only 12 points. Against the Spurs Sunday, the entire team looked distracted, uncomfortable and in general, bad.
So Karl is trying to take charge of the situation. Whatever happens with Anthtony, he still has a team to coach. And there's a reason he's been one of the best in the game the past 20 years. He understands players, how players think and how to manage this sort of thing. So if cutting Melo's minutes is something Karl needs to do, or just
say
he's going to do, he's not afraid to make that call.
Don't blame Melo though for tuning out a bit. He comes to practice and games every day knowing he's going to spend 20 minutes answering the same trade questions. He never backs down, never skips out. He stands tall and answers everything the best he can. I think it's admirable. But at some point this stuff starts catching up to everyone.
This may be Karl's way to say to the front office that he's ready to get this over with. Karl wants a team to coach. He's sick of all this uncertainty.