Mikhail Prokhorov has walked away from the Carmelo Anthony trade talks. Who are the winners and losers, and how does this decision impact Anthony's future? Posted by Ben Golliver.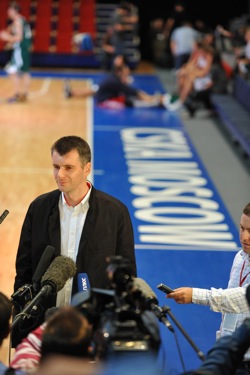 Are the New Jersey
Nets
ready to give up their pursuit of Denver
Nuggets
All-Star forward Carmelo Anthony?
Nets owner Mikhail Prokhorov, who was
expected to meet with Anthony this week
, addressed the ongoing trade talks with the media during a Wednesday press conference prior to New Jersey's game against the Utah
Jazz
, saying that he has had enough and that his organization would stop its pursuit of Anthony.
Ken Berger of CBSSports.com has
your on-scene report
.
NorthJersey.com reported
that Prokhorov summarized his reasoning simply: "It's been too long and too expensive."
NBA.com reported on Twitter
that there would be no turning back. "Wow. Prokhorov tells Nets to walk away from Carmelo deal ... says decision is final."
The Salt Lake Tribune reported
that Prokhorov would not even meet with Anthony as expected.
"There comes a time when the price is simply too expensive," said Prokhorov, who acknowledged that he is not happy with how the proposed deal played out. "I am instructing our team to walk away from the deal. And the meeting which was supposed to be held by our management tomorrow in Denver with Carmelo is hereby cancelled."
The Associated Press also noted
that Prokhorov was not happy with the public nature of the negotiations.
"I'm not happy with the way ... this deal has gone until now," said Prokhorov. "It has taken too long. It has been played out in public and it certainly has taken a toll on the players and I believe that it has cost us several games. I think management did a great job.."
Here's video of the press conference,
courtesy of YouTube user RickieRich1
.
This qualifies as a shocking turn of events, as the Nets have aggressively pursued Anthony since last summer and reportedly nearly landed him twice, once in a four-team blockbuster scenario involving the Utah Jazz and Charlotte
Bobcats
before the season started and again in January, when a three-team trade scenario involving the Detroit
Pistons
was close.
On Monday,
CBSSports.com's Ken Berger reported
that Anthony wasn't particularly keen on the idea of meeting with the Nets and there have long been questions about whether Anthony would agree to sign an extension with New Jersey if traded.
Back in December, my CBSSports.com NBA Facts & Rumors colleague Matt Moore argued that the
Nets should bail
on the Anthony trade talks because the price was getting too exorbitant.
Yahoo! Sports reported Wednesday
that the Chicago
Bulls
may be entering the Anthony sweepstakes.
As trade discussions with the New Jersey Nets stall, the representatives for Carmelo Anthony(notes) are engaging the Chicago Bulls with hopes of pushing them into becoming a serious bidder for the Denver Nuggets star, a league source told Yahoo! Sports.
What should we take from today's revelation? Anthony's personal influence and power has been underrated through the last six months, if that's possible. Anthony is functioning as an independent entity here, on par with (if not more powerful than) the organizations trading him and trying to trade for him. Meeting his interests are just important to accomplishing a trade as making sure Denver and New Jersey are both satisfied.
With New Jersey out of the picture, Denver is left scrambling, as the New York
Knicks
are the only remaining buyer with the ability to help the Nuggets achieve their goal of getting younger, shedding salary and stocking future assets. They are apparently also the only team that meets Anthony's desire to play in the New York City area, his hometown. Unlike New Jersey, however, New York is not prepared to compromise its present and mortgage its future to land Anthony, leaving Denver up a creek. It's possible we just watched the Anthony trade chip depreciate by 20% or more this afternoon.
The hold up continues to be Anthony's refusal to sign a contract extension with just anyone. Denver may need to turn to a much less desirable Plan B, trading Anthony without his agreement to an extension. This would come at significant cost, as Anthony's trade value without an extension is much lower, but it would be better than losing him outright this summer. The Bulls, Dallas
Mavericks
and Houston
Rockets
have been rumored to have interest in a rental scenario. (For more on the Bulls angle,
click here
.)
Meanwhile, the Knicks are now free to low-ball the Nuggets to their heart's desire, knowing that their diminished offers for Anthony with an extension will likely still trump the offers of other teams trying to trade for Anthony without an extension. For that reason, if we had to guess right now, Anthony's most likely destination should he move before the trade deadline will be the Knicks. It's been reported that Denver isn't crazy about the pieces New York has put on the trading block:
Eddy Curry
,
Danilo Gallinari
,
Wilson Chandler
, etc. It's time for the Nuggets to take a good, long, hard second look.