New Jersey Nets forward Troy Murphy has requested a trade according to Nets GM Billy King. Posted by Ben Golliver.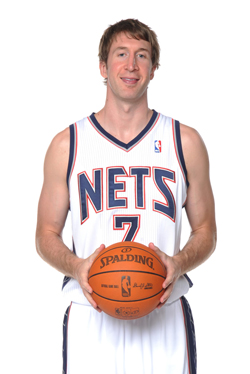 It's one of the oldest and best tricks in the book: Wait until there's really big bad news that you're forced to deliver, and then provide all the rest of the bad news along with it. Even young children are masters of this tactic: Waiting to reveal a poor grade on a test until after their parents are already ticked off that they threw a rock through a window, for example.
Such is life for the New Jersey Nets, who early Wednesday withdrew from the
Carmelo Anthony
trade negotiations, removing any short-team hope that their fanbase had for salvaging another dreary season. Nearly lost, but not quite, in the storm of Anthony news, was
a Sports Illustrated report
that Nets GM Billy King publicly acknowledged that disgruntled power forward Troy Murphy has requested a trade.
Troy Murphy has requested a trade, Nets GM Billy King says. Murphy will be allowed to stay away from the team until they can deal him. King also confirmed the obvious at his press conference: Any deal with Detroit is now dead, too.
The
proposed trade
with the
Pistons
would have sent Murphy to Detroit for guard
Richard Hamilton
, a precursor to the trade with Denver that would have landed Anthony in New Jersey. As Hamilton's contract is fully guaranteed through the end of next season and his production has fallen off considerably, New Jersey has no reason to take on his contract now that they're set to enter a full-scale rebuild without Anthony in the picture.
2010-2011 has been a tough year for Murphy, as
a back injury limited him early on
and he never seemed to appeal to new Nets coach Avery Johnson. He hasn't started since Nov. 9 and hasn't appeared in a game since Jan. 7. An offensively-skilled and versatile stretch forward acquired from the Indiana
Pacers
in a trade that sent
Courtney Lee
to Houston, Murphy may or may not get his trade wish granted.
With their season already in ruins, whether or not Murphy is content and/or productive is a non-factor for the Nets, simplifying this situation significantly. New Jersey doesn't need to worry about him being a distraction or not playing hard. Cast him away. Who cares. Nobody. Every minute he doesn't play is another minute for rookie forward and top 2010 draft pick
Derrick Favors
.
The worst case scenario for New Jersey with Murphy has always been to simply allow his expiring contract run out at the end of this season. Murphy's $11.97 million cap number -- he's the team's highest-paid player -- would come off this summer, giving New Jersey plenty of room to pursue a top-tier free agent or multiple targets.
The pre-deadline market for expiring contracts is unclear right now, as everyone was sitting around and waiting for the Anthony trade to kickoff the player movement season. If New Jersey can dump Murphy for a rotation player, they would certainly do it, but simply waiting out the duration of his deal would also have its advantages. Unlike with Anthony, the Nets hold all the cards here. Not that they're great cards to hold, but it's a microscopic consolation after a tough day.