Former Phoenix
Suns
GM Steve Kerr will call the 2011 NCAA Final Four. Posted by Ben Golliver.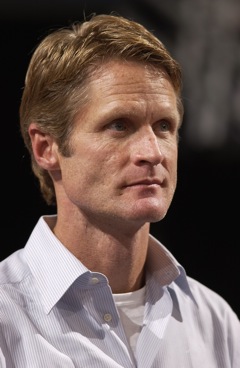 In a somewhat unexpected plot twist, CBS Sports has added to the announcing group for the 2011 NCAA Final Four, tabbing former Phoenix Suns general manager and TNT television commentator Steve Kerr to join the call. Other TNT favorites, like Charles Barkley and Kenny Smith, will also be doing studio work during the tournament.
The championship tips-off with the NCAA FIRST FOUR on truTV Tuesday, March 15, with Jim Nantz, Clark Kellogg and Steve Kerr calling the action, with Tracy Wolfson courtside. Nantz, Kellogg, Kerr and Wolfson will team up again when the tournament concludes with the Final Four and Championship game on Saturday, April 2 and Monday, April 4 on CBS Sports. Nantz will be covering his 26th Final Four and National Championship, Kellogg will be working both events for the third time, with Kerr joining to call his first Final Four and National Championship. Gus Johnson and Len Elmore, along with courtside reporter Craig Sager, will handle the call for the FIRST FOUR games on Wednesday, March 16, on truTV.

Two studios, based in New York and Atlanta, will be used to cover all the action. Studio coverage will be anchored by Greg Gumbel and Ernie Johnson, who will share hosting duties during each day. Charles Barkley, Greg Anthony and Kenny Smith will provide analysis throughout the tournament alongside Gumbel or Johnson from the CBS Broadcast Center in New York. Analysts Reggie Miller and Seth Davis will join the New York studio rotation for the second week of the tournament. Matt Winer will host the studio coverage from Turner's Atlanta studio with analysts Davis and Steve Smith.
While an outside-the-box move considering Kerr's lack of college basketball announcing experience, it's an easy one to co-sign. Kerr is as clear-headed, concise, knowledgeable and experienced as any color commentator working basketball games today, having mastered the art of not boring his listeners by revealing behind-the-scenes wrinkles or taking contrarian postures but backing them up fully.

Kerr also played in the 1988 Final Four, shooting a ridiculous 57.3% from three-point land and making second-team All-American. So he comes to this booth with first-hand insight into what the players are going through, what they will be going through in their professional futures, what professional talent evaluators will be looking for from the players and as an experienced media professional with a firm grasp on storylines and drama.

Kerr left the Suns somewhat abruptly last June, amidst rumors of mismanaged contract negotiations by owner Robert Sarver.

As for Ernie Johnson, Charles Barkley, Kenny Smith and the gang? More is always better, even when Chuck is dancing. Hopefully Craig Sager turns down the volume on his wardrobe; after all, there will be kids present.