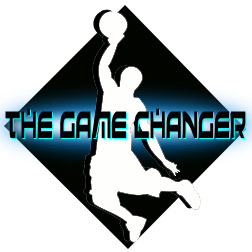 The Los Angeles Clippers keep rolling, Blake Griffin goes 360 pivot before dunking, Monta Ellis hits a game-winner and more. Posted by Ben Golliver.
Each game is made up of elements which help formulate the outcome. Monday through Friday, we'll bring you the elements from the night before's games in our own specialized version of the game recaps. It's not everything that happened, but it's an insight into what lead to the results you'll see in the box scores. This is
the Game Changer.
THE BIG ONE: CLIPPERS KEEP ROLLING
There's no better story in the NBA over the last two weeks than the resurgent Los Angeles Clippers, who pulled themselves together after a dreadful start to the season. Rather than treat 2011 as a walk of shame, the Clippers are cat-walking through the competition, notching their third straight victory and sixth in the last seven games by smashing the Minnesota
Timberwolves
, 126-111.
Every night is the Blake Griffin show, and Griffin delivered yet again (see highlights below). But Wednesday night also revealed some excellent scoring balance and all-around unselfish, excited play. The Timberwolves are simply awful on defense and the Clippers exploited those holes nicely, getting lots of easy looks by registering 26 assists on 44 field goal makes, shooting nearly 50% as a team on the night.
Eric Gordon
, battling through a finger injury, put up 23 points on just 14 shots and he didn't miss from downtown. With the Clippers' recent success, are we finally turning a corner as a nation and realizing what Gordon's been doing over the last few months? This nice
SB Nation analysis
suggests that maybe we are.
Aside from LA's headliners, there's progress to be seen up and down the roster. If you rewound back to the early struggles and made a checklist of the improvements you would want to see, that list would look something like...
DeAndre Jordan must play engaged, excited ball and trust his physical skills.
Baron Davis must try. Really try.
Eric Bledsoe needs to be an impact player in his minutes.
Griffin must get to the free throw line all night long.
All of those things happened last night, and it was smooth sailing against an inferior opponent. A major step for any lottery team comes when they are able to put away other lottery teams forcefully. Do that enough and you're in the playoff picture. If things keep clicking along like this, it's not impossible to imagine that Los Angeles could find themselves in a tussle for the Western Conference's 8th seed by season's end.
As for now, the second half of a home-and-away back-to-back greets them on Thursday night, in Portland against the
Trail Blazers
.
GO-GO-GADGET LINES OF THE NIGHT:
Danny Granger:
32 points, 13 rebounds, six assists, three steals, one block on 11-19 shooting in 42 minutes in an Indiana
Pacers
road loss to the Golden State
Warriors
.
DeJuan Blair:
22 points, 11 rebounds, one assist, one steal, one block on 11-16 shooting in 35 minutes in a San Antonio
Spurs
home victory over the Toronto
Raptors
.
Carmelo Anthony:
35 points, seven rebounds, one assist in 38 minutes in a Denver
Nuggets
home victory over the Oklahoma City
Thunder
.
Monta Ellis: 36 points, five rebounds, six assists in 44 minutes in a Golden State Warriors home victory over the Indiana Pacers.
DON'T MISS:
WHIMSY:
Like
Dwight Howard
and
Shaquille O'Neal
wrestling, except the exact opposite. Indiana Pacers forward
Tyler Hansbrough
and Golden State Warriors point guard
Stephen Curry
compete in a funny faces contest. Winner gets possession.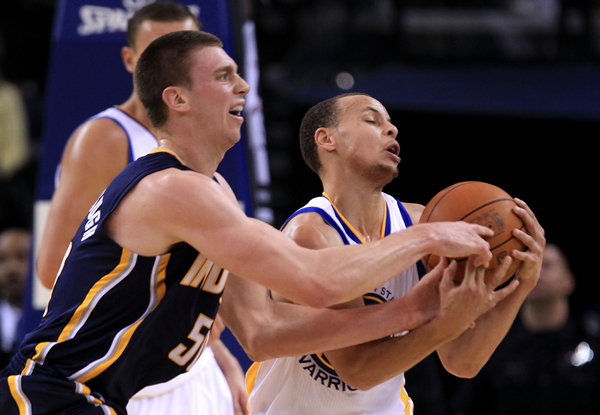 HIGHLIGHT REEL PART ONE:
Los Angeles Clippers forward Blake Griffin did it again for the 4,000,000th time this season in a game against the Minnesota Timberwolves last night, taking the basketball coast-to-coast, pivoting 360 degrees to avoid
Corey Brewer
, taking two power gather dribbles and rising up to throw down the monster slam. Did I mention he's a power forward?
HIGHLIGHT REEL PART TWO:
This dunk is so nice you have to watch it twice. Here's Griffin in the super slow motion.
HERO OF THE NIGHT:
Golden State Warriors guard Monta Ellis delivers the last-second game-winner at home, pushing the Warriors past the Indiana Pacers 110-108, much to the delight of the Oracle Arena crowd.
Courtesy of YouTube user thehoopscene
.