Portland Trail Blazers center Marcus Camby is expected to miss "approximately three weeks" after undergoing arthroscopic knee surgery. Posted by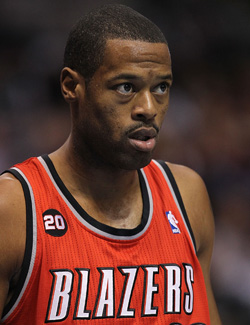 Ben Golliver.
The Portland Trail Blazers announced that center Marcus Camby, who
suffered a knee injury on Monday
during a game against the Minnesota
Timberwolves
, underwent successful arthroscopic knee surgery on Thursday. Camby is expected to miss "approximately three weeks."
Portland Trail Blazers center Marcus Camby underwent successful arthroscopic surgery to repair a partial medial meniscus tear in his left knee this morning, it was announced by General Manager Rich Cho.
Dr. Don Roberts performed the surgery in Vancouver, Wash., and Camby is expected to miss approximately three weeks.
"We're pleased with the outcome of today's surgery, and look forward to seeing Marcus back on the court soon," said Cho. "In the meantime, we have confidence in our frontcourt players to step into the void left by Marcus and help us continue to win games."
As far as injury news goes for the Blazers, this is about as good as it gets. Already this season, guard
Elliot Williams
, forward Jeff Pendergraph and center
Greg Oden
have been lost to season-ending knee injuries, and guard
Brandon Roy
is also out "indefinitely" after
undergoing dual knee surgeries earlier this week
.
In Camby's absence, the Blazers will use centers
Joel Przybilla
and
Sean Marks
, and will also play some small ball with power forward
Dante Cunningham
. Cunningham got the start for Portland last night against the Sacramento
Kings
, but Przybilla played a season-high 29 minutes and grabbed 11 boards. It's unclear whether Przybilla can sustain that type of playing time, though, as he is still working his way back to 100% after dual knee surgeries last year.
Without Camby, the team's leading veteran voice, emotional leader and key defensive centerpiece, the Blazers will simply look to tread water and keep their heads afloat. The team plays just nine games over the three weeks, so the hit could have been a lot worse.
Some more good news: Camby's return is expected to come before both the All-Star break and the trade deadline. While his name has come up in scattered rumors, it's unlikely that Portland moves him this season, as they need his production if they hope to make a playoff push. However, Camby's presence on the court might make it easier for Portland GM Rich Cho to part with other trade pieces -- perhaps including Przybilla's expiring contract -- prior to the deadline.