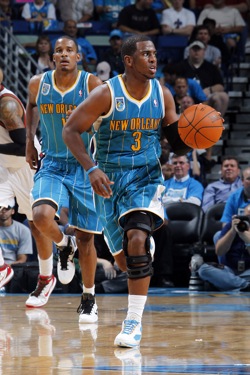 Posted by Royce Young
The New Orleans
Hornets
have the right to terminate their lease early with the city if certain benchmarks are not met. It's kind of been the cloud that's hung over the franchise recently, especially with all the uncertainty surrounding ownership and potential relocation talk.
The catch has always been that a new buyer could potentially have the opportunity to uproot the franchise immediately because of the ability to break the lease with the city.
However, it doesn't look like the franchise will be given that opportunity.
As mentioned in today's Shootaround,
the team only needs to average 14,891 fans against San Antonio on Saturday and Oklahoma City on Monday, which should happen.
The announced attendance at the Hornets past two home games against the
Grizzlies
and
Raptors
were 15,951 and 15,155, respectively. The benchmark is set to expire Jan. 31
According to The Times-Picayune , local businesses have donated about $412,000 for tickets to games against Memphis and Toronto to help increase attendance figures. The home game previous to that against the Orlando Magic, who have big names like Dwight Howard and Gilbert Arenas, only brought in a crowd of 13,688. The previous two home games before the Magic, the Hornets saw crowds of 13,532 (Warriors) and 13,433 (76ers).
I don't know what to think about this. On one hand, good going by the locals in rising up to help take a big step in keeping the team in New Orleans. On the other hand, do they really deserve it? The fans of the Hornets didn't actually do it. Some rich people made it happen. Meeting the benchmark is a fabrication. It only happened because some business people beat the system. Is that really the way it should work?
I guess you can't really change it because how can you stop people from buying tickets? But still, donating more than $400,000 just to massage some attendance numbers seems weird to me.
The team expects to have good crowds against the Spurs and Thunder, but is it because some business folks are making it happen or are people really turning out? And does it really matter?
In the end, the arena is going to meet its benchmark which is step one in keeping the team home. But it's only a step and in the end, probably won't mean all that much.