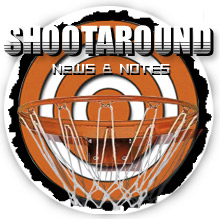 Gerald Wallace may be drafted into playing big, unfortunately, Kobe's got his hands all over the L.A. sidwalk, literally, and the Magic are interested in Troy Murphy, reportedly. All this and more in today's Shootaround.
Posted by Matt Moore
Kobe Bryant
will have his handprints put in cement
outside that big Chinese theater in L.A. during All-Star weekend. We're pretty sure he's going to try and put his hands into cement harder than any of those other stars. He'll work harder at putting his hands into cement than anyone.
Is
Blake Griffin
your
favorite new show
?
The Magic are interested in Troy Murphy
who is debatably on the block
,
should he become available in a buyout
. San Antonio and Dallas are also interested, reportedly. It makes a lot of sense for the Magic, right? Power forward who can rebound and knock down mid-range shots fits in pretty well there, with their desperate need for depth down low. I mean, yes,
Brandon Bass
will probably break his hotel lamp, but he probably does that when the room service eggs aren't salted, either.
Greg Oden
talks
. We're pretty sure the subject of injury comes up at some point.
Joe Lacob isn't
exactly sure
what Keith Smart is
doing with his rotations sometimes
. Joe Lacob is just like you and me!
Kobe Bryant reflects on
everything free agency
.
Chuck Hayes
is
back, and all that stands between
the
Rockets
and big man annihilation.
The
worst statistical lineup
for the
Knicks
? The one that starts.
Russell Westbrook
k
nows the names of a bunch of Oklahoma towns
. The great people of Poteau, OK are heartbroken to be left out.
With
Tyrus Thomas
out, the
Bobcats
will probably turn to Gerald Wallace
at the four again, as he used to
. Which is going to make him a very unhappy camper. Wallace played that position for years despite his insistence that he's a three, and the results were pretty clear. As in, he wound up having multiple injuries including a concussion trying to play bigger. This could get ugly.