Miami Heat forward LeBron James says he might play in the low post more if teammate Chris Bosh remains injured. Posted by Ben Golliver.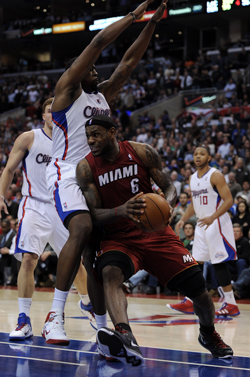 With Heat forward Chris Bosh
still dealing with an ankle injury
suffered against the Chicago
Bulls
, Miami's LeBron James is brainstorming ways to help the team through Bosh's absence. His solution,
according to the Heat Index
: Do what Bosh is supposed to be doing, getting points on the inside.
With Miami Heat teammate Chris Bosh still hobbled by an ankle injury and likely to miss his second straight game Saturday, James is contemplating taking his game inside to provide a post-up scoring option when the Toronto Raptors visit AmericanAirlines Arena.
"If I'm going to be playing an extensive [power forward], I'll start getting down there and getting us some more paint points," James said after Friday's practice. "I spent a lot of time on it this offseason. Once I made the decision to come here and realized we had a low-post threat, I kind of backed off a little bit. With [Bosh], he's been our outlet. With him being out, I can go back to it. I just have to dust it off a little bit. It's no problem."
You might remember, less than two weeks ago, the idea of James
situationally playing center
was thrown out there as well.
There's a whole "post-positional" movement going on in NBA intelligentsia, that the league has evolved past the five standard positions we've used for decades. While that idea has merit, James' talent is simply bigger than that sort of parsing debate. James can do whatever he wants, wherever he wants against pretty much whoever he wants. He needs help, of course, but he can play positions 1-5 on both offense and defense (with varying degrees of success, of course).
James the post player has a ways to go, especially in terms of his ability to get high-percentage looks going to the rim and knocking down turnaround jumpers, but he's an excellent passer out of isolation situations on the block and he reads defenses better than just about anyone in the league. Shifting James to the frontcourt would likely make the Miami attack a bit more boring, but it's not like they have a plate full of great options when one of the Big 3 is out with injury.
What I'd really like to see develop in this situation is for James to take his recent cartoon idea -- the
one where he has different personas
like "Kid LeBron" and "Business LeBron" -- and apply that on the court. For example, he could tell sideline reporter Cheryl Miller during a timeout that "Bosh LeBron" was going to check into the game to replace "Magic LeBron," that "Jordan LeBron" was going to take the game's final shot, or that he was resorting to "Shaq LeBron" because Miami needed help on the glass.
If you're going to play multiple positions and cultivate multiple personalties, go all the way with it.