The Atlanta Hawks lost to the New Orleans Hornets on Friday night, and they did so in historic fashion. Posted by Ben Golliver.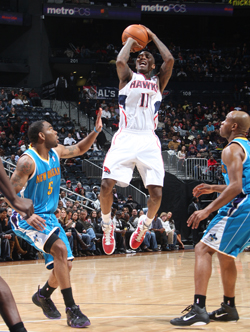 Any time a post-game search of the Basketball-Reference.com database, which stretches back nearly 25 years, turns up empty, it's either really good news or really bad news. Either way, you know you've made some history.
In the case of the Atlanta Hawks on Friday night, it was really bad news. They got absolutely clobbered at home by the New Orleans Hornets, 100-59, scoring just 25 points in the second half.
The
Atlanta Journal-Constitution reported
that the Hawks set a franchise record for fewest points since the team moved from Milwaukee to Atlanta in 1968. The paper
also noted
that this was the team's "worst home loss since a 118-74 blowout by Phoenix on March 30, 2000."
On the night, Atlanta shot 23-79 from the field, a disastrous 29.1%. Atlanta's 23 made field goals as a team was the lowest output since Apr. 28, 1999,
when they made just 20 buckets
in a win over the New York
Knicks
. Since the 1986-1987 season, however, Atlanta has never made 23 or fewer shots while attempting 79 or greater shots. So, this night, with its 56 missed field goals, was one of the most brick-filled performance in at least 24 seasons. The Hawks did manage to shoot 25-82 (57 missed field goals) on Apr. 5, 1996.
Also worth nothing, Atlanta's team's assist total of 11 was the lowest
in more than year
, dating back to a loss to the Miami
Heat
on Jan. 4, 2010.
Analyzing
the boxscore
, it's amazing how the awful-ness was spread around so evenly. Only two Hawks reached double figures, No. 1 scoring option
Joe Johnson
scored just nine points on 12 shots, point guards
Mike Bibby
and
Jeff Teague
combined for 0 points on 0-15 shooting, and the team as a whole shot an abysmal 4-20 from the three-point line. The last time the Hawks were that bad from behind the arc
was Dec. 4, 2009
, when they combined to shoot 4-23 from long range.
The Hawks aren't horrible offensively --
they rank 12th in offensive efficiency
on the season -- and there are no obvious excuses for tonight's performance, as they had two days off to prepare for the game and just beat the Miami Heat on Tuesday night. Center
Al Horford
did not play with an ankle injury, his first game missed so far this season, but that hardly justifies the performance put up by his teammates.