Miami Heat coach Erik Spoelstra says forward Chris Bosh is "probably" the team's most important player. Posted by Ben Golliver.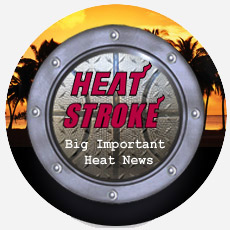 Say this about Miami Heat coach Erik Spoelstra: He did an admirable job of weathering the early-season calls for his job, and while he constantly looks disgusted when the Heat lose, he has yet to show much fear. Today we have another example of that fearlessness, and God help him if someone shows these quotes to
LeBron James
.
In
a lengthy Q & A focused on his use of statistical analysis with NBA.com
, Spoelstra responded to a question about the team's plus/minus numbers by saying that forward Chris Bosh is "probably" the team's "most important player."
"He is probably our most important player, especially early on in the season. He's our crutch. He's our bail-out. We're able to run the offense through him and facilitate ball movement through him, easier than anything else we do.
"It's because of his skill set and because we can play our high-post offense through him, with our cuts and movement. We can play him out of the low post with cuts and movement. And we can get into our normal pick-and-roll game, either by running it with him and throwing the ball back to him; or running a pick-and-roll with somebody else, rolling that guy, and replacing with him.

"So there's so many different things we can do where the ball ends up in his hands, and it will facilitate another action. That's why, offensively, he's had the biggest impact. It's really been understated how important he's been to making this whole thing work."
Bosh is generally regarded as the distant third wheel on the Heat, trailing James and
Dwyane Wade
in terms of importance. So far this season, Bosh and James have virtually identical plus/minus ratings, so it's not really about that statistic specifically. Instead, Spoelstra's statements are fairly pragmatic, as he notes Bosh's two-way play, versatility and the role of a agile big-man in a guard-dominated lineup.
Really, the best case for Bosh's importance stems from Miami's lack of frontcourt depth. If you lose Bosh, you're empty up front (
or have to try to play James in the post
). If you lose James or Wade, you still have the other one.
To be clear: I'm not saying I agree with Spoelstra's argument or the idea that Bosh is more important because he's less replaceable, but the arguments are out there to be made. I'd take James before Bosh on an "importance" scale without a second thought. Wade would make my pause long enough to request that he improve his shot selection, but still, if given the option, I'd opt for conventional wisdom and take Wade before Bosh as well, plus/minus be damned.
Man alive, it takes some stones for Spoelstra to play the contrarian in public, knowing James' understanding of his own self-importance. He's the "King," Mr. Spoelstra. By his own definition and entire life self-construction, James is always -- always -- the most important.