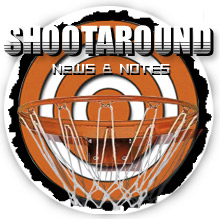 Posted by Royce Young
Ricky Rubio wants to play on the East coast, according to the New York Times: "The bottom line is, why would he want to play in Minnesota? He'll continue to say all the diplomatic things, and Minnesota needs to keep his value up for trade purposes, but the family's preference is to be on the East Coast, specifically New York, Miami or Boston. He wouldn't be troubled if he has to stay another year."
After Warriors owner Joe Lacob said every player was available on the roster, Stephen Curry went out and played some of his best basketball. He says he was motivated: "It's a bit of a shock, because you feel like you're doing everything else you were supposed to be doing. Especially since I've never been in a situation where me changing teams or being traded would be an option, it's kind of like a weird thing to think about. But they've been straightforward about what they see in us and it's all been positive for me, so I don't have any problem brushing that off."
Jonny Flynn is watching you: "I'm a guy who reads everything. Everything," Flynn said. "I hear everything. People are saying, 'We want to see more out of Jonny Flynn.' That's why you have to put your blinders on and remember what your goals are. That's one thing that has helped me get through."